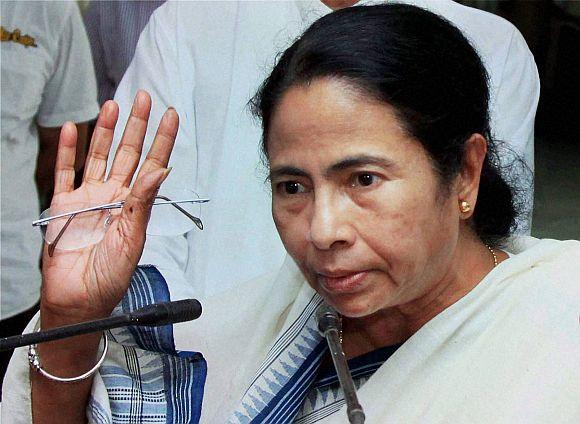 West Bengal Chief Minister Mamata Banerjee on Saturday accused the Centre of pursuing vindictive politics and using central agencies like the Central Bureau of Investigation and the Enforcement Directorate to terrorise people in the non Bharatiya Janata Party-ruled states.
"They are terrifying everybody by using the CBI, ED or the Income Tax Department. In states which have no BJP governments they are using the three central agencies against them," she said.
Addressing a programme of the Trinamool Congress, the chief minister also ticked off BJP for "selling" the country in the name of "Make In India".
"They don't care for the values and principles of the country," she alleged.
Banerjee indirectly accused Prime Minister Narendra Modi of trying to take credit for everything positive happening in Bengal and "spreading lies".
"In Bengal, we have cancelled more than 1.35 crore fake ration cards. He is claiming that they have saved so much of leakage of public distribution system by saving Rs 30,000 crore. In Swachh Bharat, under the Nirmal Bharat scheme we have taken a lead, but they are taking credit by saying they are doing Swachh Bharat.
"We have opened accounts in Panchayat for women working in Integrated Child Development Services Scheme. They are taking credit that they have opened accounts. Sitting back and tweeting about those achievements and trying to take credits. There should be a limit in telling lies," Banerjee said.
She asked her party MPs to expose the lies on the floor of Parliament.
Banerjee attacked the Communist Party of India-Marxist and the Congress for protesting only in West Bengal against the hike in fuel prices, saying "everyday the prices of fuel are increasing. And whenever the fuel prices are increasing the CPI-M and the Congress are protesting. Why are they not protesting against it in Delhi? They have their offices in Delhi."
She accused the BJP of trying to flare up communal passions in the country. "The Congress too has joined them these days while the CPI-M is also there with them."
She alleged the CPI-M and the Congress had sacrificed their ideologies for the sake of returning to power and that a section of the media acted as their "stooges".
Banerjee also asserted that her party had not taken "a single penny" from anyone in the Saradha chit fund scam and the Narada sting operation.
Addressing a party programme in which Narada sting accused TMC leaders Firhad Hakim, Suvendu Adhikari and Mukul Roy were also present, Mamata said, "You did not call anyone on your own. Someone asked for an appointment and then they came to meet you. During that appointment you yourself kept the money on my table and took pictures. I didn't ask for money, neither did I call you. Why did you come to my place."
"You yourself came and said you want to give money and you then try to blackmail. We want to know how much money is being raised through such kind of blackmailing. We want to know the truth behind it. From Saradha to Narada, Trinamool Congress has not taken a single penny from anyone," she said in reference to the allegations leveled against TMC leaders in the Narada sting operation.
Banerjee also questioned the source of money used in the sting operation.
The West Bengal chief minister had ordered a probe by Kolkata police into the Narada sting operation, in which several Trinamool Congress leaders were purportedly shown accepting money in return for promising to grant favours to a fictitious company.
"Is it that Suvendu Adhikari can't eat and he needs to take money to run his family, Firhad Hakim can't eat and he need to take money to survive? Their families have also faced humiliation because of this. Who are they to conduct such sting operations, do they have any license to conduct such sting operation," Banerjee asked.