A man rides a motorcycle past the wreckage of a bus that was burnt in the clashes between the police and protesters in Ahmedabad. Photograph: Amit Dave/Reuters
Army was called in on Wednesday to help control widespread violence sparked by quota agitation by Patel community in Gujarat which has claimed eight lives even as curfew was clamped in several areas.
Flag marches were held in the city on Wednesday evening by the army amid reports of sporadic violence in some parts of the state. '
The violence which started on Tuesday after a massive rally of the Patel community has claimed eight lives in the state, police said.
Notwithstanding Prime Minister Narendra Modi's appeal for peace, protesters resorted to arson, stone-pelting and attacks on public and private properties. The bandh call given by Patel leaders brought the city to a grinding halt.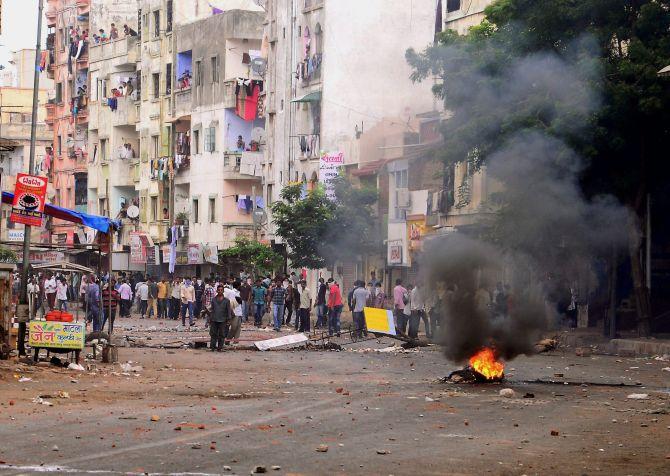 The charred remains of the vehicles in Ahmedabad on Wednesday which were set on fire during the Patidar community's agitation on Tuesday. Photograph: PTI
Curfew has been clamped in Ahmedabad, Surat, Rajkot, Mehasana, Patan, Palanpur, Unjha, Visnagar and Jamnagar towns. "Five companies of army were called in Ahmedabad city to control law and order situation as the violence escalated," Ahmedabad district collector Rajkumar Beniwal told PTI.
The army conducted flag-march in five areas in the city which had witnessed incidents of violence, he added. Apart from Ahmedabad, two companies of army were deployed in Surat and another two in Mehasana. About 5,000 paramilitary personnel have also been to brought to Gujarat.
Six people were killed in firing by police and paramilitary forces, while two others died following clashes which started last night, police said. Four deaths were reported in Ahmedabad, three in Gadh village of Banaskantha district and one in Mehasana town.
Earlier in the day, in a televised address in Gujarati, the Prime Minister appealed for peace and emphasised that all the issues can be resolved through talks.
"I appeal to all brothers and sisters of Gujarat that they should not resort to violence. The only 'Mantra' must be 'Shanti' (peace)," said Modi. Union Home Minister Rajnath Singh spoke to Gujarat Chief Minister Anandiben Patel on Wednesday morning and assured her full support of the Centre to tackle the situation.
Meanwhile, Hardik Patel, the 22-year-old leader of the Patel Anamat Andolan Samiti who is spearheading the agitation, blamed police for the violence and said the agitation will intensify in the coming days.
Denying that the protesters started the violence, he accused the police of trying to "disrupt" the movement at the behest of political establishment. Schools, colleges, shops, banks remained closed in most places in view of the bandh call given by Hardik after his brief detention last night.
Public transport and rail traffic was also affected. Police said agitators uprooted railway tracks in at least eight places in the state.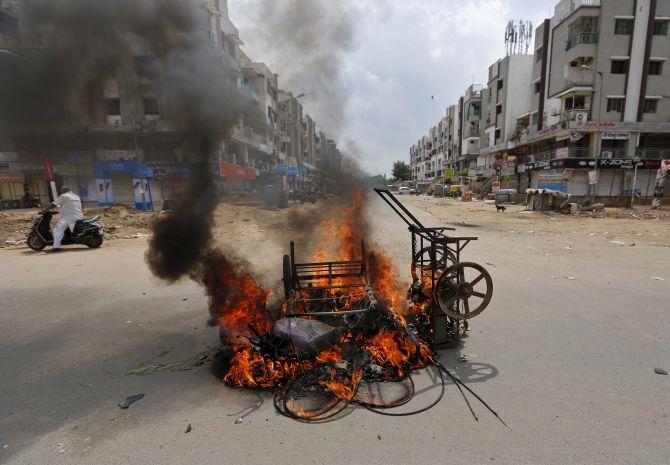 A man on a scooter stands next to burning vehicles after the clashes between the police and protesters in Ahmedabad. Photograph: Amit Dave/Reuters

A man was killed in firing on a mob which was pelting stones at Modhera crossroad on the outskirts of Mehsana town in north Gujarat on Wednesday afternoon.
"23 rounds were fired. A man called Nilesh Patel died," said B Division police station officer Ratansinh.
Three persons were killed in police firing on a mob which tried to torch a police station at Gadh village near Palanpur.
"At around 1 pm, the mob stormed the police station and tried to torch it. In defence, police fired some rounds, which killed three persons. Curfew has been imposed in Palanpur," said Banaskantha District Collector Dilip Rana.
In Ahmedabad, two persons were killed in police firing in Vastral area, while another person who had been held for allegedly being involved in stone-pelting died at a police station in Bapu Nagar. A body was also found in Ghatlodia.
"Girish Patel, 47, and his son Siddharth Patel, 20, were killed in police firing late last night. The incident took place when a mob tried to snatch weapons from police. These two tried to snatch a rifle of a policeman and during the scuffle it went off," police spokesperson N D Trivedi said.
In Bapu Nagar, a man allegedly involved in stone pelting was held and brought to police station where he later collapsed, a police official said, adding, he was rushed to Shardaben hospital where doctors him brought dead.
In Ghatlodia, police recovered the body of a man who died due to severe head injury. He is believed to have been beaten up in the clash last night, police said.
Arson and stone-pelting were reported in many parts of Surat city on Wednesday as protesters tried to enforce the bandh.
Chief Minister Anandiben Patel appealed for peace earlier in the day. "At least 53 companies of paramilitary forces have been called and after sometime we will also deploy army in various parts of state," she said in a video message.
"But we should think why the need of calling the army has arisen. In a model state like Gujarat which is also a peace-loving state we have to bring in such arrangements from outside... what impression does it make... Therefore I request you with folded hands to keep calm and peace," Patel said.
At least 12 trains, including Ahmedabad-Delhi Rajdhani Express, were cancelled and 19 trains were diverted inside Gujarat, Western Railway PRO Pradip Sharma said. Another five trains were diverted out of the state.
Tracks were damaged in several places. At Sarbarmati railway station in Ahmedabad, a mob tried to set fire to a freight train but the Railway police foiled the attempt.
Tracks were badly damaged by miscreants at GST crossing in Ahmedabad and near Vartej cross-road in Bhavnagar.
People near the charred remains of the vehicles in Ahmedabad on Wednesday which were set on fire during the Patidar communitys agitation on Tuesday. Photograph: PTI
Ahmedabad Police Commissioner Shivanand Jha clamped curfew in nine areas -- Nikol, Bapunagar, Ramol, Odhav, Naroda, Narayanpura, Krishnanagar, Ghatlodia and Vadaj -- following incidents of violence.
A mob of around 1,000 people burnt two warehouses of Surat Municipal Corporation in Udhna area of Surat. Bikes, buses and vehicles were torched at many places in the city. The diamond and textile industry in Surat remained closed.
"Extra companies of state reserve police force (SRP) have been deployed in the city. We have also sought central forces," Surat Police Commissioner Rakesh Asthana said.
Police sub-inspector Mitesh Salunke was severely injured when a mob pelted stones in Lalgate area of Surat last night.
In Saurashtra region, bandh was observed in Rajkot, Jamnagar, Bhavnagar and Porbandar. Sporadic violence was reported in all these four districts on Wednesday, police said.
Rajkot SP (rural) Gagandeep Gambhir was injured in stone-throwing near Upleta road area.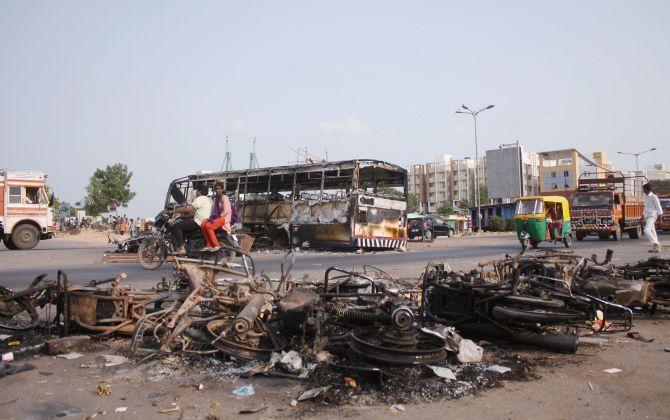 Mob pelting stones at the police during a clash in Ahmedabad on Wednesday, a day after Patidar community rally for reservation. Photograph: PTI
Total bandh was observed in most cities in North Gujarat, while in Central Gujarat including Vadodara, and in Anand town, the bandh call evoked a mixed response.
According to police, protesters from Patel community turned violent after Hardik Patel was detained briefly by police. More than 50 incidents of violence were reported in Ahmedabad city where buses, police posts and private vehicles were torched. Policemen were also attacked in some places.
Rampaging mobs last night damaged bus stations, set on fire vehicles and also attacked the office of Union Minister of State for Agriculture, Mohan Kundaria, in Rajkot.
Patan district SP Ashwin Chauhan told PTI that curfew had to be imposed because it was becoming difficult to control the rioters. Jamnagar district SP Pradeep Sejul too said that curfew in the town became necessary to handle the situation.
Across Gujarat, a total of 133 companies of State Reserve Police as well as central paramilitary forces including CRPF and BSF had been deployed, said Director General of Police P C Thakur in a statement in Ahmedabad.
Each company comprises 80 personnel. Forty-nine of these companies are deployed in Ahmedabad, six in Vadodara, 10 in Surat, three companies in Rajkot and remaining in other parts of the state to maintain the law and order, he said.
Meanwhile, several religious leaders, including Morari Bapu and Pramukh Swami Maharaj of the Swaminaryan sect, issued appeals for peace.