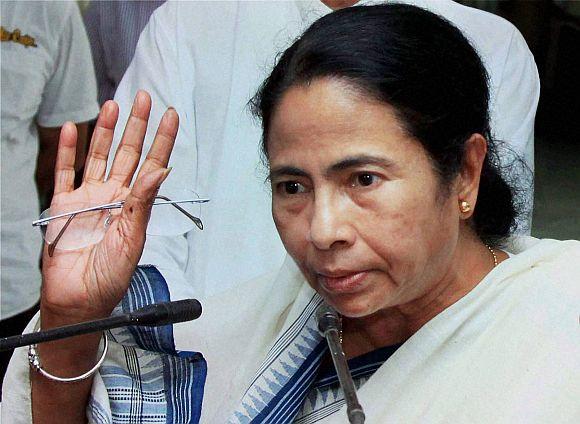 West Bengal Chief Minister Mamata Banerjee on Monday urged President Pranab Mukherjee to "save" the people of the country from the hardship caused by demonetisation and the resultant cash crisis, while claiming that the Central Bureau of Investigation was being used to victimise her party.
"I urge the President, who is the constitutional head of the country, that if some government through its arbitrary decisions takes the country to the brink of disaster, as the protector of the Constitution give protection to the people and save the people," the Trinamool Congress chief said.
"Famine has started. Indications of the beginning of the famine are coming. So save the people. If people don't survive then nothing will happen," she said while inaugurating the 'Mati Utsav' (Soil Festival) in Burdwan.
Asking the common people to rise in protest, Banerjee said, "there will be some hardship, but someone has to bell the cat. Trinamool Congress will do that".
"We will take care of all the hardship that may befall us owing to our protests," she said.
Earlier in a series of tweets, she demanded lifting of the restrictions imposed from time to time by the Centre.
"Restrictions should be removed. Hardships being faced by millions due to #DeMonetisation", she said.
"Trinamool Congress is organising nationwide protest against Modi babu's shameless flop-show #NoteBandi," she wrote in another tweet.
Banerjee claimed that her party and its leaders were being victimised for protesting against the demonetisation of high value notes and its fallout.
"They (BJP-led Centre) have turned the CBI into a Conspiracy Bureau of India," she said referring to the agency's arrest of TMC MPs Sudip Bandopadhyay and Tapas Pal in connection with the Rose Valley chit fund scam.
"We don't care about that. If he can, Modi babu may put all of us in jail, but we will not stop talking for the people," she added.
"Even if they take us from Bengal to Odisha, Delhi or Uttar Pradesh, it does not matter, every place is our country," Banerjee said.
"But when people react then where will Modibabu go?" she said.
She said some small leaders are now talking big. These people will flee to America, London or Switzerland, but they will remain here.
Banerjee expressed surprise that while 92 per cent of the villages in the country did not have post offices, Modi was saying Aadhaar card was a must to avail of the NREGA schemes.
"Will people eat plastic cards or create plastic cards?" she asked in jest.
"If workers at tea gardens do not get wages, jute mills remain closed, farmhands do not get daily wages, shops and retail markets close down, then should not I protest," she asked.
"If there is any protest, Modi is trying to scare us. If he has the guts, let him arrest all of us and put us in jails," Banerjee said.
"In the two months since demonetisation, revenue earnings of the state (West Bengal) have gone down by 25 per cent. We have incurred a loss of Rs 5,500 crore in these two months," she claimed.
"From where will I pay the salaries of the employees?", she asked.
"Even then, people cannot withdraw their own money from banks owing to lack of currency notes and restrictions on withdrawals," she said.
Banerjee alleged that Modi, in "Tughlaqi style", was changing his mind and thereby pushing the country to disaster.
"As a result, the economy is sliding and agriculturists are facing a tough time. The farmers are not getting proper prices for their produces and the country will face famine," she claimed and questioned the "silence" of the chambers of commerce in this regard.
"I ask the industry to protest. Do not be afraid," she appealed to them.
Banerjee said the West Bengal government had started digitisation in several spheres of governance. "We have digitalised as far as can be done, but one cannot force it on the people," she, however, pointed out.
"West Bengal has topped in e-governance in the state," she said.
"I have been an MP for 23 years and have seen many governments, but have never seen such a government which only sees conspiracy if someone protests," Banerjee said, claiming that the situation was worse than that of the Emergency days of 1975.
"Growth has gone down, GDP has gone down. In the next quarter, growth will become negative," she said.