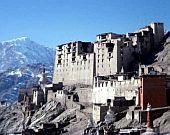 India is befriending China on one hand and remaining "cautious" on the other by deploying more troops in Ladakh region due to "threat" perception, having learnt lessons from the past, Union Minister Farooq Abdullah said on Monday.

Addressing young students, scholars and scientists at the Northern Regional Science Congress in New Delhi, Abdullah broached the topic when he was referring to the abundant wind energy resources available in Ladakh region.

"We people have Army there (in Ladakh). (We have) one full division there and now we are putting another division there because we have threat from China and I don't say that outside but I am telling you because you are Indians.

"I want to tell you that in one place we are befriending China but we have also learnt a lesson from China and that is why we remain cautious as well because we had one division we will be keeping another one there," he said.

The minister also noted that China was indulging in huge infrastructure

building on the Arunachal Pradesh border while "we are still thinking."

On energy, he said India will be a power surplus country by 2030 and the government is looking forward to produce energy through clean coal and nuclear energy as well.

Abdullah said the government has set the target of producing 22,000 MW of energy through renewable sources by 2022.

He said the government is offering subsidies for using solar power water heaters at homes and would also provide loans to buy appliances run on solar power and urged people to adopt solar and other alternative energies.

The minister blamed the US for global warming and said that India is one of the lowest producers of global gases even lower than China.

He also motivated young students and scholars to take up sciences and research as it is the only way to progress forward.

The Northern Regional Science Congress was organised by Indian Science Congress Association (ISCA) and Department of Science of Technology , Government of India.