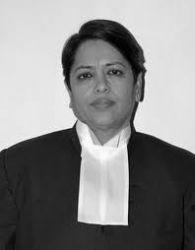 Former Punjab and Haryana high court Judge Nirmal Yadav faces trial in the infamous 2008 cash-at-judge's door scam after a special CBI court in Chandigarh on Saturday framed charges against her in the case.
The order comes after the Supreme Court had on January 3 dismissed Yadav's plea for a stay on proceedings of the trial court and pulled her up for adopting delaying tactics.
Special CBI court Judge Vimal Kumar framed charges against Yadav under Section 11 (getting valuable things without or inadequate consideration) of the Prevention of Corruption Act and four others under various sections of the Indian Penal Code, including Section 120-B (conspiracy).
The court has now adjourned the case to February 15, when six prosecution witnesses will be examined in this case, Anupam Gupta, Central Bureau of Investigation public prosecutor, told reporters outside the court.
Gupta said the arguments on application of Yadav seeking permanent exemption from personal appearance in the trial would also be heard on that day. Yadav, who was present in the court along with other accused, refused to talk to the media.
The court has also framed charges against other accused including Delhi-based hotelier Ravinder Singh Bhasin, former Additional Advocate General of Haryana Sanjeev Bansal and city-based businessman Rajiv Gupta under section 120 B of the Indian Penal Code read with section 12 of Prevention of Corruption Act.
The fifth accused Nirmal Singh along with Sanjeev Bansal and Rajiv Gupta have been slapped with charges under section 120 B of IPC read with various sections of the IPC including 193 (punishment for false evidence) and 192 (makes any false entry in any record), said Gupta.
The court has asked six prosecution witnesess including constable Gurminder Singh, who was posted at residence of Judge Nirmaljit Kaur, complainant Amrik Singh who was peon at the Judge's house, Sub Inspector Joginder Singh, station house officer Ramesh Chander Sharma, head constables Bahadur Singh and Satyabir Sharma, to appear for examination on February 15.
The cash-at-judge's door scam had hit headlines after a packet containing Rs 15 lakh was allegedly wrongly delivered at the residence of Nirmaljit Kaur, who was also a high court judge, on August 13, 2008.