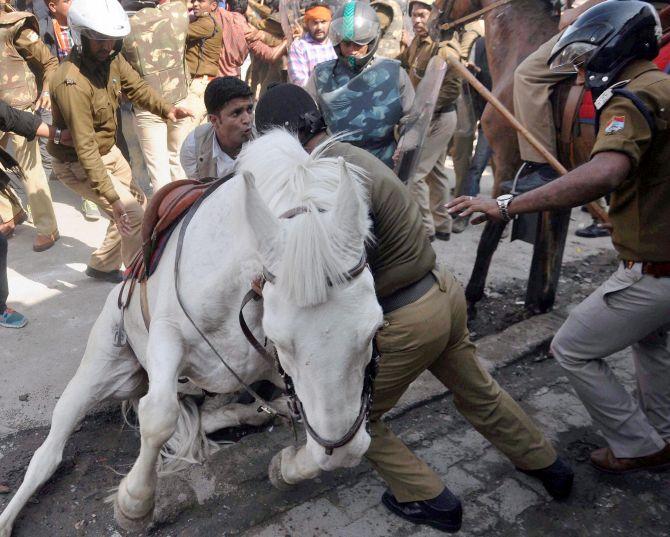 The Bharatiya Janata Party government in Uttarakhand has withdrawn a case registered against its MLA from Mussoorie Ganesh Joshi for allegedly showing cruelty to police horse Shaktiman, whose death due to injuries sustained during a party protest last year triggered massive outrage.
Terming the case lodged against Joshi as an act of "political vendetta" by the previous government, state urban development minister and spokesman of the state government Madan Kaushik said all "politically motivated" cases slapped against party workers by the previous regime are being withdrawn.
"We withdrew the case against Ganesh Joshi in the Shaktiman episode as it fell into that (politically motivated) category. All such cases where our party workers were wrongfully framed for voicing their social concerns are being withdrawn," Kaushik said.
Joshi and his supporters had been booked under the Prevention of Cruelty to Animals Act and various sections of the IPC in the case.
Police horse Shaktiman was injured during a demonstration held by the BJP near the state assembly on March 14 last year.
It received grievously injuries in one of its hind legs which had to be amputated. However, after struggling to walk on a prosthetic leg the horse died after a little over a month after the incident.
A video footage showing Joshi charging at the horse with a stick in hand during the protests went viral, inviting criticism from political parties and animal rights activists
throughout the country.
Joshi was booked and sent to jail following the incident but eventually got bail.
The withdrawal of the case has left the opposition Congress livid with state party president Pritam Singh accusing the BJP of "misusing power to protect its leaders. "