Legendary vocalist M Balamuralikrishna, who first exploded on the Carnatic music scene as a child prodigy and later strode classical and cinema worlds effortlessly across generations, passed away in Chenai on Tuesday.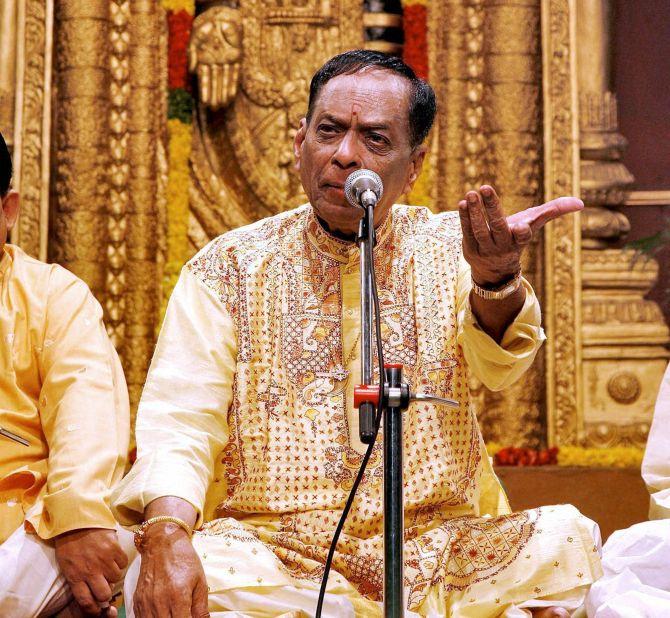 The 86-year-old veteran was not keeping well for some time and breathed his last today at his residence in Chennai, his family sources said.
Mangalamapalli Balamuralikrishna, who hailed from Sankaraguptam in East Godavari district of Andhra Pradesh, made Chennai his home to traverse the world of music and cinema. He leaves behind his wife, four sons and two daughters.
The musician featured in the popular national integration song 'Miley Sur Mera Tumhara' in the '80s in which he sang Tamil lyrics.
He started his musical journey as a six-year-old boy and grew to be one of the best names in the profession, leaving his imprint in the field of Carnatic music.
A multi-faceted personality, he enriched music not only with his voice but also by composing over 400 songs in various languages like Telugu, Sanskrit, Kannada and Tamil. This included devotional to varnams, krithis, javalis and thillanas, in all the fundamental 72 melakartha ragas.
He was a towering figure in Carnatic music world and was loved equally by the the masses and connoisseurs. His songs like 'Oru Naal Pothuma' in Sivaji Ganesan-starrer "Thiruvilayadal", 'Chinna Kannan Azhaikiran' in "Kavikuil" and 'Thanga Ratham Vanthathu' in "Kalai Koil" were great hits and are popular even today.
A crowd-puller in Carnatic music concerts, he starred in a number of films in Tamil and Telugu. He made his debut as an actor in "Bhakta Prahalada" in 1967.
Balamuralikrishna was at ease with Hindustani music and had 'jugalbandis' with eminent exponents like Pt Bhimsen Joshi, Kishori Amonkar, Hariprasad Charasia, Pt Jasraj and Zakir Hussain.
He played instruments including viola, which he introduced in Carnatic music, to leading giants of yesteryear like Chembai Vaidyanatha Bhagavatha, Madurai Mani Aiyar and others.
With over 400 compositions in various languages to his credit, Balamuralikrishna also lent his voice to Rabindrasangeet.
Balamuralikrishna was honoured with, among others, the Padma Vibhushan, India's second-highest civilian award.
He was also a recipient of the prestigious French Chevalier of the Ordre des Arts et des Lettres title and is counted among one of the best in the field of Carnatic music. The vocalist is credited with holding thousands of concerts across the world.
Tributes poured in for the departed exponent, with musicians, political leaders and celebrities condoling his death.
Tamil Nadu Governor Ch Vidyasagar Rao expressed shock and grief over the 'sudden death' of the musician.
"He was an influential vocalist blessed with mesmerising and divine voice and a composer who had performed more than 20,000 concerts across the globe," he said in a Raj Bhavan statement.
His passing away has left a 'void' in the Indian carnatic music world, he said and expressed his condolences to the bereaved family members.
Tamil veteran Kamal Haasan described the actor-singer as "Mahaguru."
"Mahaguru Dr Balamurali enthralled millions with music. Thanks to technology even death can't silence his voice. Pranam guruji & goodbye," Haasan tweeted.
Congress Vice-President Rahul Gandhi and Union Minister M Venkiah Naidu condoled Balamuralikrishna's death.
"A great loss to the Music World. India has lost legendary Carnatic Vocalist Shri Mangalampalli Balamuralikrishna," Naidu wrote on his Twitter page.
"Saddened by the passing away of the legendary Mangalampalli Balamuralikrishna. Carnatic music has lost a leading light today. My condolences," tweeted Gandhi.
Andhra Pradesh Chief Minister N Chandrababu Naidu, composer A R Rahman, actor Dhanush and musicians like Sirkazhi Sivachithambaram and Manicka Vinayagam condoled Dr Balamuralikrishna's death.
Photograph: PTI Photo