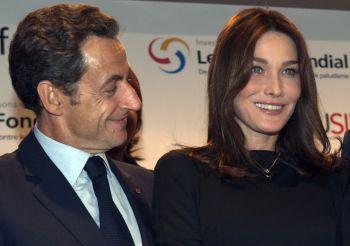 In an anti-climax to all the hype and glamour building up to the launch, the web site of French first lady Carla Bruni crashed almost as soon as it was set up on Monday. However, it is up and running on Tuesday.
The web site of the 41-year-old former supermodel, who became the first president's wife to have a web site of her own, had been intended to give an insight into her life as the French president's wife and her charity work, reported British daily The Telegraph.
It is not known yet if the web site had crashed due to a technical error or massive hits by curious viewers. An overload of generous self-extolment cannot be ruled out too.
The site, www.carlabrunisarkozy.org, describes Bruni as the 'ultimate modern woman', a pioneering humanitarian, an epitome of beauty and good work, charity campaigner, fashion icon and pop star.
The glorious list of praises also says that her very name 'Carla' is today suggestive of beauty and good work.
Needless to say, the site is splashed with photographs of Bruni all over, one with the US first lady Michelle Obama, against a background of glossy pink-and-blue colours.
In an authorised profile on the site, Bruni expressed her admiration for women's liberation movement, but said her own views on feminism were different.
The site mentions that Bruni 'did not campaign for the mini skirt' but was determined to make the world a better place.
Bruni, who had married French President Nicholas Sarkozy after a whirlwind romance in 2008, has also written a piece about her recent live performance at a charity concert in New York, and a tribute to Jean Paul Gaultier, one of her favourite fashion designers.
After two hours of failure, a message appeared in place of the site stating that it was 'a victim of its own success' and that visitors should 'try again' later.
There is a reference to the French first couple's visit to Britain in 2008, when they had stayed with the Queen at Windsor Castle.
Image: French President Nicholas Sarkozy with his wife Carla Bruni Sarkozy | Photograph: Philippe Wojazer/Reuters