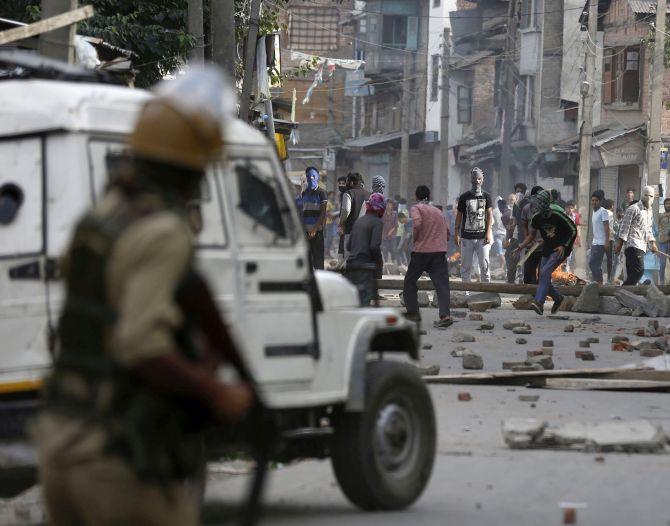 In a new twist to the turmoil in Kashmir, the National Investigation Agency on Wednesday claimed it was being orchestrated by Pakistan-based Lashkar-e-Tayyaba and that it was gathering further evidence of the terror group's role in fuelling the unrest, triggered by the encounter killing of a terrorist leader.
Armed with a confessional video of a captured LeT terrorist, Inspector General of NIA Sanjeev Singh told reporters that since the summer this year, the banned outfit, with the 'help of Pakistani forces deployed on the border', pushed heavily armed terrorists into India with the direction to mix with the local people, create disturbance, and attack police and security forces.
The video shows 21-year-old Bahadur Ali, a resident of Raiwind in Lahore, spilling beans about LeT's role in the disturbances. He is also shown speaking about the LeT's sophisticated communication network and assistance rendered to it by the Pakistani army.
Ali, who was arrested on July 25 this year from Yahama village in Handwara in North Kashmir, was in one of the groups allegedly instructed to take advantage of the current situation and throw grenades at the security forces by mixing with the protesters.
"During communications with Ali, Alpha-3 (a communication centre in Pakistan occupied-Kashmir) told that the LeT cadres had been successful in fuelling large-scale agitation in Kashmir after Eid subsequent to the death of Burhan Wani.
"Further investigation is continuing on the disclosure of Bahadur Ali regarding his role in the present unrest in Kashmir," Singh said.
The anti-terror probe agency also said it is gathering further evidence regarding the role of Pakistan-based LeT in the ongoing turbulence in the Valley for the last 33 days.
The NIA's comments came a day after India handed over a 'strong demarche' to Pakistan over its continued support to cross-border terrorism in India.
The NIA also showed to the media a video of Ali alias Saifullah, a Punjabi-speaking man, talking about his family, the time he spent in the terror outfit and his crossing over to the Indian side of the border.
Ali told his interrogators that he was informed by his handlers from a control room code-named 'Alpha-3', believed to located at a high altitude somewhere in Pakistan occupied Kashmir, about the unrest in the Valley following the killing of Burhan Wani, a Hizbul Mujahideen militant on July 8.
His handlers from the control room asked him to throw grenades at the security forces and also informed him that other cadres of the terror group had managed to sneak into the Valley, mingled with protesters and were fuelling tension in the Valley.
This is for the first time that the NIA has shown a video statement of a captured terrorist. Pakistan had earlier this year shown a video statement of Kulbhushan Yadav, an Indian national arrested in Balochistan in March over charges of spying for the Indian intelligence agencies.
Ali said he was recruited into Jamaat-ud-Dawa, an organisation headed by Hafiz Saeed, aged 14, by a close aide of the 26/11 mastermind, and given the task of collecting funds for Jihad in his village.
Moulana Abdur Rahim, who belonged to the LeT, also headed by Saeed, radicalised him by showing films of alleged atrocities on Muslims in different parts of the world including India and exhorting youth to undertake Jihad to establish Islamic rule there.
He also served in the office of an LeT-affiliated NGO Falah-e-Insaniat Foundation at Lahore.
Before being sent to India, Ali underwent three training courses -- Daura-e-Tulba (basic training for 15 days) at Manshera in the year 2013, Daura-e-Aam (21 days of basic arms training) at Aksa camp near Muzaffarabad in 2014 followed by month-long Daura-e-Khas at Tabook camp near Muzaffarabad in the summer of 2016, during which he was trained in use of sophisticated arms and field craft.
He said there are 30 to 50 trainees at any given time in each course from different parts of Pakistan including Pushto speaking men who are sent to Afghanistan to fight the allied forces, the NIA said.
Ali said he was launched from Mandaku area of PoK where he was handed over arms and ammunition besides other accessories like GPS, night vision device, compass, grenades, grenade launchers, maps, matrix sheets, food packets, dry ration, medicines etc.
Before being launched, Ali and other were repeatedly shown the infiltration route on the Google maps beamed on an LCD TV besides landmarks on the route.
Ali said some army officers in civilian clothes visited to brief them about their tasks and check their preparedness. He said those officers were referred to as 'major sahib and captain sahib', corroborating the statement made by Mohd Naveed, another Pakistani terrorist, who was captured and arrested following an attack on a Border Security Force convoy at Udhampur in August 2015.
"The in-charge of the control centre at Muzaffarabad whom Bahadur Ali had also met before infiltrating into India was a man named Waleed," Singh said.
Indicating continued encouragement and support of Pakistani military regulars in pushing terrorists into the Kashmir Valley, Singh said the arrested Lashkar terrorist had been promised cover fire when attempting to infiltrate into Northern Kashmir.
He said the terrorists were communicating with 'Alpha-3' on Japanese I-com radio sets which had been modified to cover a vast range.
"Highly technically qualified people have done the modification of the radio set and also trained these militants including Bahadur Ali," Singh said.
About the persons who could be manning 'Alpha-3', Singh said it was not possible for a terror group or ordinary people to have such a communication set up which covers a wide range of area and can hack into defence networks.
"(The) NIA is collecting evidence that will stand international udicial scrutiny and will share it with Pakistan for further action through proper channel," he said.