Nearly five years ago, Radhika Menon made headlines when she broke through barriers to be the first woman to become captain of the Indian Merchant Navy. Today, she has another first to her credit.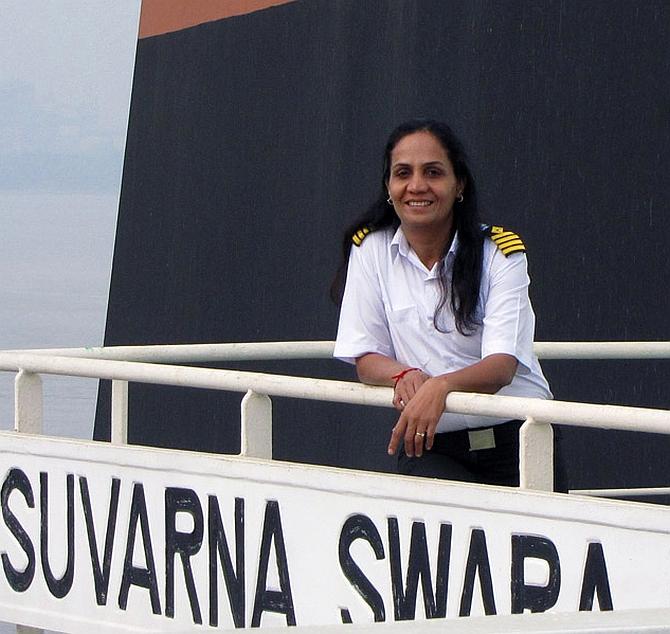 Captain Radhika Menon, Master of the oil tanker Sampurna Swarajya of Shipping Corporation of India, is to receive the 2016 IMO Award for Exceptional Bravery at Sea for her role in the dramatic rescue of seven fishermen from a sinking fishing boat in tumultuous seas.
The International Maritime Organisation Council, meeting for its 116th session in London, endorsed the decision of a Panel of Judges that Captain Menon displayed great determination and courage in leading the difficult rescue operation in the Bay of Bengal in June last year.
Captain Menon was nominated by the Indian government for the rescue of all seven fishermen from the fishing boat Durgamma, which was adrift following engine failure and loss of anchor in severe weather.
The fishermen, who ranged in age from the 15-year-old Perla Mahesh to 50-year-old Narasimha Murthy, were in bad shape. They were weak, starving and frightened.
Food and water had been washed away and they were surviving on ice from the cold storage.
Through wave heights of more than 25 feet, winds of more than 60 knots and heavy rain, on June 22, the second officer on the Sampurna Swarajya spotted the boat 2.5 kilometres away, off the coast of Gopalpur, Orissa.
Captain Menon immediately ordered a rescue operation, utilising the pilot ladder and with life jackets and buoys on standby.
It took three arduous attempts in the lashing wind and rain and heavy swells before all seven weak and starving fishermen were brought to safety on board the ship.
Their families had already considered them to be lost at sea, but thanks to the rescue, led by Captain Menon, they were reunited with their loved ones a few days later.
Asked about the IMO award, Captain Menon told the Times of India, "I am humbled, honoured and grateful. It is a maritime obligation to save souls in distress at sea and, as a seafarer and master in command of my ship, I just did my duty."
Captain Menon, a native of Kodungallur in Kerala, joined the Shipping Corporation of India as a trainee radio officer -- she was the first ever to be so -- soon after her Class XII examinations in 1991. Besides managing the ship's communication systems, she also handled the menu and provisions.
She gradually ascended the hierarchy by clearing exams for the posts of second mate and chief mate, and did the sea time required to appear for the master's certificate which she cleared in 2010. In 2012, she took charge of MT Suvarna Swarajya.