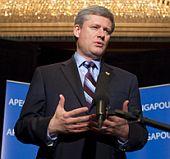 Ajit Jain, rediff India Abroad Managing Editor, Canada, is traveling with Canadian Prime Minister Stephen Harper on his first-ever visit to India.
Canadian Prime Minister Stephen Harper is leading an official delegation on a three-day visit to India during which the two countries are expected to finalise a civilian nuclear deal and ink a major economic treaty.
Harper arrived in Mumbai late Sunday night after attending the Asia-Pacific Economic Cooperation (APEC) summit in Singapore.
Members of Harper's delegation include Gurmant Grewal, former Conservative Member of Parliament (from Surrey, British Columbia), who decided not to seek renomination following a police probe against him. His wife Nina Grewal is sitting MP.
Other members of the delegation include real estate developer Bob Dhillon, who is building a billion dollar island in Belize (formerly British Honduras) in Central America; Toronto-based hotelier Deepak Ruparell, who is a board member of the Canada-India Foundation (CIF); Conservative MPs Deepak Obhrai, who is also Parliamentary Secretary to Foreign Affairs Minister; Tim Uppal, Devinder Shory; and Canada-India Parliamentary Association President Patrick Brown.
Dimitri Soudas, chief spokesman of the prime minister, released the list of the official delegation to the media. The role of the members of the official delegation was, however, not defined.
To lend weight to the high-powered delegation, two Federal ministers -- Foreign Affairs Minister Lawrence Cannon and International Trade Minister Stockwell Day -- are travelling with Harper.
Interestingly, this will be Day's third visit to India this year. He first came to India in January when he held talks, revolving around the civilian nuclear deal, with Prime Minister Manmohan Singh. He came again in October to open India's trade office in Ahmedabad.
The importance that Harper places on India is reflected in the make up of his delegation.
During his day-long stay in Mumbai, Harper will preside over a meeting of Indian investors in Canada at the Trident Hotel, which was attacked by terrorists on November 26 last year.
He will also pay a visit to Chabad House, which too was targeted during the November 26 attacks. The terrorists killed six occupants of the house, including Rabbi Gavriel Noach Holtzberg and his wife, Rivka, who was five months pregnant.