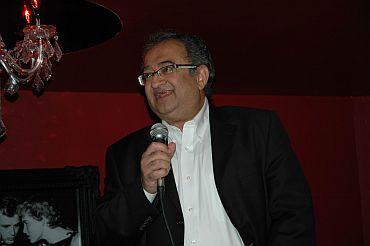 Tarek Fatah, author and founder of the Muslim Canadian Congress, a liberal group he spearheaded when there were moves to introduce Sharia law in the Ontario justice system, withdrew from the North American Muslim Foundation conference February 6 at the last minute.
He was scheduled to speak at the event.
Revealing that the Toronto police warned him to stay away as there were threats to his safety and the audience was hostile to his liberal secular philosophy, he said, "I didn't feel comfortable there."
Fatah's ideology has been challenged by several people and fundamentalist Muslim organisations, including Imam Sheharyar Shaikh, president, NAMF.
Shaikh has called his views un-Islamic.
Fatah, who the Toronto Star once called 'one of Canada's most fearless critics of Islamism,' continues to be vocal.
His first book Chasing a Mirage: The Tragic Illusion of an Islamic State, which was published two years ago, was shortlisted for the Donner Prize in 2008.
In his latest book The Jew is Not My Enemy, he has written about 'the historical myths around Muslim-Jewish conflict that are manipulated for the sake of anti-Semitism.'
He is concerned about the 'alarming rise in recent years of Muslim anti-Semitism.'
The Pakistan of the 1950s had no tradition of anti-Semitism, Fatah says. But in 2006, he spotted it almost everywhere.
A banner on a Karachi street read: 'Bird Flu is a Jewish conspiracy.' He was 'dumbstruck.'
Fatah, who has become the voice of modern, liberal and secular Muslims, is also concerned about the sub-group in the growing Muslim population -- expected to rise from the current 2.8 percent of the population to 6.6 percent of the population by 2030 -- that he calls 'Islamists, who come here with the intention of destroying the social fabric of the country.'
Image: Tarek Fatah