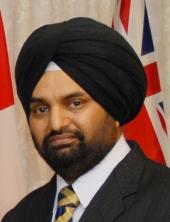 The attack on Jagdish Grewal, editor of the Punjabi daily Punjabi Post, in suburban Brampton on October 23 is reminiscent of the assault on Tara Singh Hayer, a journalist who was murdered in 1998 in Vancouver. 
Both events are attributed to differences between the moderate and hardcore pro-'Khalistan' Sikhs.
Hayer, reportedly, wanted to testify in court in the Air India bombing conspiracy case.
And Grewal is seen as a 'moderate' and pro-India. Both invited the ire of militant Sikhs who want to keep the demand for a separate state of Khalistan alive.
"Some people don't like my views," Grewal told rediff.com.
He pointed out an incident on January 26, outside the Pearson Convention Center in Brampton. when a group of pro-Khalistan Sikhs made people walk over the Indian national flag. He also referred to how a small group of Sikhs continue to demonstrate at India's Independence Day celebrations in Canada.
Grewal said he had just finished his work at about 11.40 pm on October 23 and was heading towards his van in the parking lot of his building when he saw three men, with faces covered, walking towards him. He quickly opened his van and closed the doors inside and attempted to start the ignition. But the men smashed the windows, he said, and pulled him out of the van and "without saying anything, started to physically assault me, with one person holding a hand gun pointing towards me. That's the time I thought I am gone."
He could hear one of them saying in Punjabi, 'Kill him, kill him.' Grewal could also see a long, grey and black beard sticking out of his face mask.
The assailants' car was apparently parked close by. Grewal said they were trying to drag him to their car but when they forced him out of his van he pressed the horn. There was one employee still in his office, who came out and from a distance saw the scuffle. The employee ran inside, closed the office doors and called the police.
Does Grewal know who his assailants were?
"No I don't," he said, "but they could be from three or four groups."
Was he ever warned about his pro-India views on Punjab and India-Canada relations?
"No," Grewal responded. "There's a difference between when you write and I write, as my writings hit these people, as they say to themselves 'he's one of us and how could he do that.'"
Peal police officer Jodi Dawson was quoted as saying that detectives are looking into whether anything connected to Grewal's work at the Punjabi Post could have sparked the assault.  
Grewal also hosts a radio show called Khabarsar. One of his recent shows was about an Indian journalist who threw a show at Home Minister P Chidambaram over an incident related to the 1984 anti-Sikh riots in Delhi. Grewal criticised that journalist, resulting in angry calls from listeners.
Balraj Deol, who publishes the Punjabi weekly Khabarnama, was among the first to reach Grewal's office after the incident. 
"He [Grewal] hasn't written anything significantly against the Khalistanis but the fact is that Khalistanis are now well organised," Deol told rediff.com.
One reason of differences between Grewal and other Sikhs is also being attributed to a recent split in the Punjabi journalists club. Those in the know say Grewal was a member of the Punjabi Club but after discovering the radicalism in it, he quit. Some of them like him joined hands to form a South Asian journalist club that's not involved in any Punjab-centric politics. 
"That has also made many Khalistanis unhappy with Grewal," said a source who did not want to be named.
In his editorial after the attack, Grewal only wrote two lines and left the rest of the column blank, 'I am silent today. Can Canada afford to be silent?'
The Canadian Journalists for Free Expression was horrified by the attack on Grewal.
'Mr Grewal has every right to freely express his views,' said CJFE Executive Director Anne Game, terming the attack 'unacceptable and of great concern to us.'
The statement said he believes the attackers may have been pro-separatist Sikhs who disagree with Grewal's moderate politics. The CFFE, Game said, is extremely concerned about the nature of this attack and the potential chill on journalists reporting on faith-based political issues.
Meanwhile, radical Sikh groups continue to flourish in Canada and Brampton. A group of local Sikhs have recently bought a building, which used to be a banquet hall, for nearly $450,000. They have established a new gurdwara there, called the Sikh Lehar gurdwara, managed by the Sikh Lehar International.
They are organising a seminar on 'Khalistan and Sikh Sovereignty.' A similar seminar was held earlier this month in Montreal.