Canada has assured India of the safety of its diplomats following the circulation of Khalistani posters online which named Indian officials and termed the 'promotional material' circulating ahead of a Khalistan rally 'unacceptable'.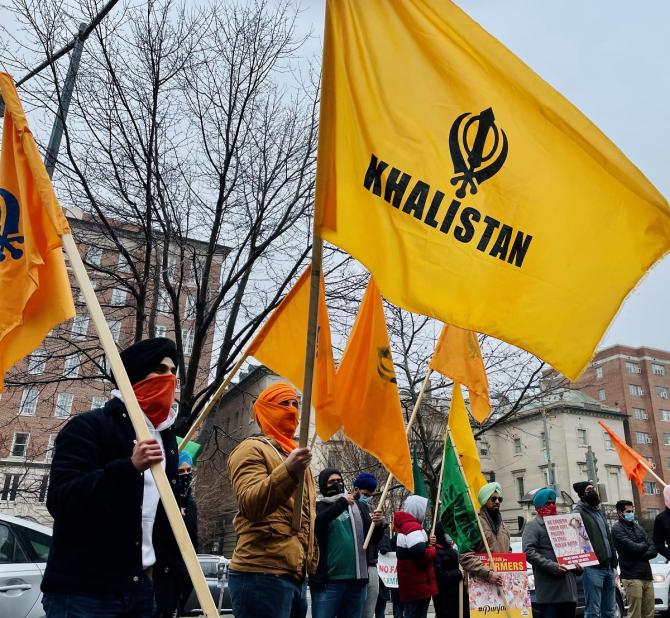 The statement by Canadian Foreign Minister Melanie Joly came a day after External Affairs Minister S Jaishankar said India has asked its partner countries such as Canada, the United Kingdom and the United States not to give space to 'extremist Khalistani ideology' as it is 'not good' for relations.
Stressing Canada's commitment to the safety of diplomats, Minister Joly highlighted the country's adherence to the Vienna Conventions.
'Canada takes its obligations under the Vienna Conventions regarding the safety of diplomats very seriously,' she said in the statement on her Twitter account on Tuesday.
'Canada remains in close contact with Indian officials in light of some of the promotional material circulating online regarding a protest planned for July 8, which are unacceptable,' Joly said.
Joly also emphasised that the actions of a few individuals 'do not speak for an entire community or Canada'.
Jaishankar, when asked about reports of Khalistani posters in Canada naming Indian diplomats, said the issue will be raised with the government of that country.
The 'radical, extremist Khalistani ideology' is not good for India or its partner countries such as the US, Canada, the UK and Australia, he told reporters on the sidelines of a BJP outreach campaign in New Delhi on Monday.
'We have already requested our partner countries like Canada, the US, the UK and Australia where sometimes Khalistani activities happen, not to give space to Khalistanis. Because their (Khalistanis) radical, extremist thinking is neither good for us nor for them nor our relations,' the minister said.
'We will raise the issue of posters with those governments. I think it would have already been done by now as it happened two to three days earlier,' Jaishankar said.
Last month, India slammed Canada after visuals surfaced on social media of a tableau in Brampton that reportedly celebrated the assassination of former prime minister Indira Gandhi.
Canada's response to the Khalistani issue appeared to be constrained by its 'vote bank compulsions' and India will have to respond if the activities impinge on its national security and integrity, Jaishankar had said on the issue.
The Khalistani issue has impacted ties between the two countries in many ways in the last few years, he had said.
India has been asking Canada against giving space to pro-Khalistani separatists and extremist elements, Jaishankar had said.