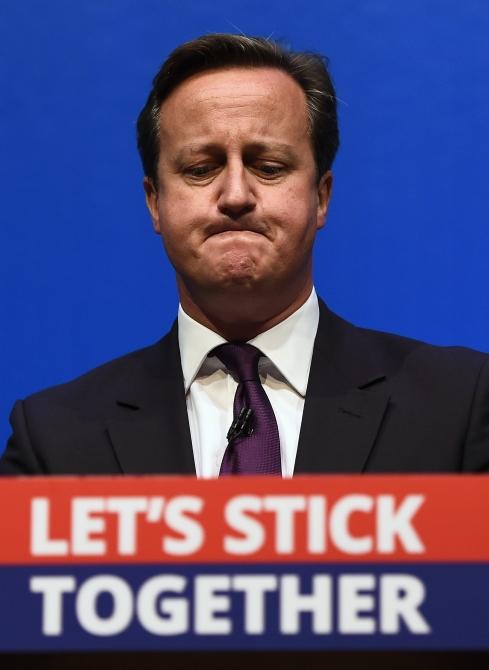 Prime Minister David Cameron on Wednesday made a last-minute plea to British voters not to give up the "best of both worlds" by voting to remain in the 28-nation EU, a day before a crucial 'Brexit' referendum with polls showing a razor-tight race whose outcome could shape Europe's future.
In the biggest backing yet for the "Remain" camp, 1,280 business leaders, which included representatives of 51 FTSE 100 companies, signed a letter warning that Brexit -- or Britain's exit from the EU -- would mean "economic uncertainty and put jobs at risk".
Their warning came on the last official day of campaigning before polling booths open at 7 am local time on Thursday with the final result expected early on Friday.
Opinion polls have suggested that while big business is broadly in favour of staying in the EU, small firms have been evenly split in what looks like a photo-finish with one poll showing "Remain" at 45 per cent and "Leave" 44 per cent, with 11 per cent undecided.
But the 'Britain Stronger in Europe' (Remain) camp described Wednesday's letter as "unprecedented" as it included around 900 small businesses, ranging from a salt maker in
Anglesey, dairy farmers in Devon, printers in Antrim and whisky distilleries in the Scottish Highlands.
Their letter reads, "Britain leaving the EU would mean uncertainty for our firms, less trade with Europe and fewer jobs. Britain remaining in the EU would mean the opposite -- more certainty, more trade and more jobs. EU membership is good for business and good for British jobs. That's why, on 23 June, we back Britain remaining in the EU".
Cameron welcomed the support as he kicked off the final hours of his campaigning, stressing that the UK enjoyed a "special status" within the EU and the "best of both worlds".
Speaking to the BBC, he said "We are not shackled to a corpse. You can see the European economy's recovery. It's the largest single market in the world.
"The idea you have to choose between being a success in the European single market of 500 million and campaigning to have jobs and wealth created by trading with other economies -- you don't have to choose, you should do both.
"We're in that single market, we're driving that single market, there are lots of things that Britain can help Europe to achieve -- whether it's tackling terrorism or signing better trade deals in the future -- but we have our own special status protected," he said.
Making a personal plea to those who fear greater European control, he described himself as a "deeply patriotic person".
"We have not been invaded for 1,000 years, we've got institutions that have served us well. I don't want to give that up to some sort of 'United Europe' and that's not what we're going to do.
"We're out of the euro, out of ever-closer union, we're proud Brits and really proud of what our country can achieve, but, frankly, we achieve more if we're in these organisations fighting for British interests and British values rather than standing outside for them," Cameron said.
His latest appeal came a day after a hastily organised doorstep statement outside his 10, Downing Street office when BBC also wrapped up its last major "Great Debate" on the issue at Wembley Stadium Arena in London.
It saw Vote Leave's star campaigner -- former London mayor Boris Johnson -- clash with his successor Sadiq Khan and Scottish Conservative colleague Ruth Davidson.
Johnson declared in his closing statement that Thursday could become "our country's Independence Day", adding, "The ideal position for us is to take back control tomorrow – of huge amounts of money, so we can spend it on our priorities. Take back control of our immigration system, take back control -- fundamentally -- of our democracy.
Khan, who broke his Ramadan fast during the debate, accused his predecessor of changing his mind over the benefits of the EU to businesses.
"The problem is this, Boris. You might start off by saying how wonderful immigration is. But your campaign hasn't been Project Fear, it's been Project Hate as far as immigration is concerned," he told Johnson.
Meanwhile, polling booths up and down the UK are preparing for the big day. Though voting will close at 10 pm UK time tomorrow, the future of Britain's relationship with the EU will not be known until at least nine or 10 hours later, at around 7 am local time on Friday.
At the close of the polls, thousands of sealed ballot boxes will be collected from schools and church halls which double up as polling stations and transported to one of 382 counting venues across the UK.
In a departure from the norm, no major broadcasters have commissioned any exit polls over concerns about accuracy following the fiasco of the 2015 General Election which had wrongly predicted a hung Parliament.
The result will be declared by Jenny Watson, the chair of the UK's Electoral Commission and the referendum's chief counting officer at ManchesterTown Hall on Friday morning.
Thunderstorms and flooding is forecast in many parts of the UK, which could affect the turnout. According to pundits, the "Leave" side is expected to benefit the most from a low turnout.
IMAGE: Britain's Prime Minister David Cameron gestures as he delivers a speech. Photograph: Dylan Martinez/Reuters