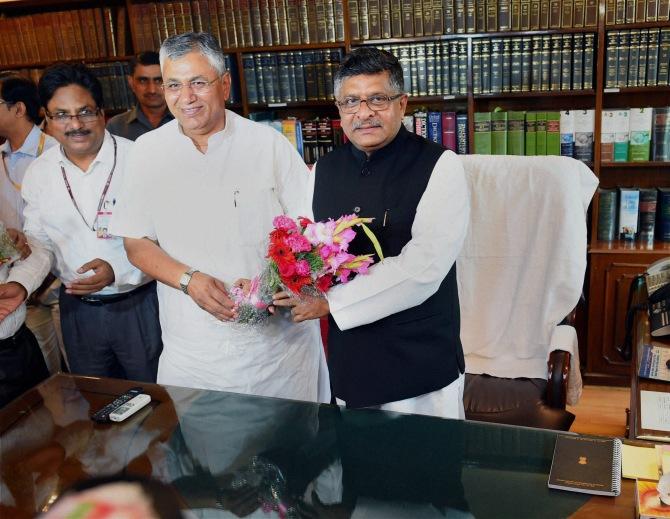 IMAGE: New Law Minister Ravishankar Prasad is greeted by MoS P P Chaudhary as he takes charge at his office in New Delhi. Photograph: Shahbaz Khan/PTI
Several ministers including Smriti Irani, who was shunted out from HRD to Textiles ministry, on Wednesday took charge of their new ministries and promised to work for development, streamlining justice delivery system, early passage of GST bill and ensuring speedy implementation of projects.
Apart from Smriti, Ravi Shankar Prasad and Ananth Kumar took over as law and parliamentary affairs ministers respectively.
Prakash Javedekar, the lone promotee who was given HRD ministry in the reshuffle of the Council of Ministers by Prime Minister Narendra Modi on Tuesday, is scheduled to take up his new position on Thursday.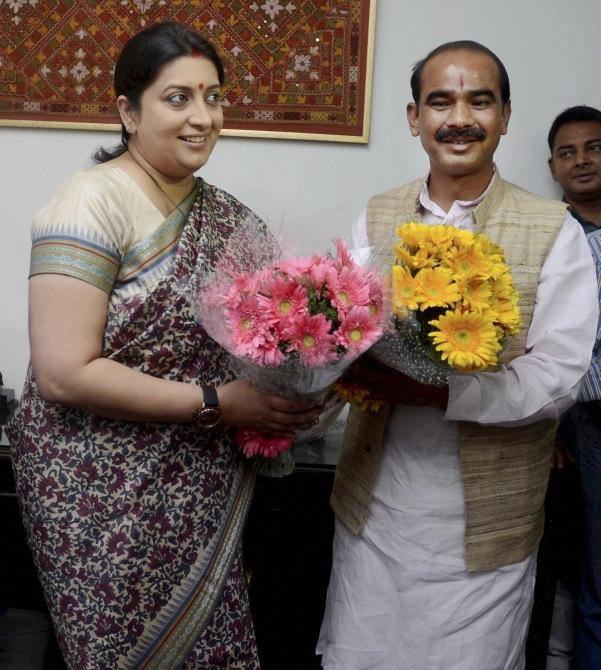 IMAGE: Smriti Irani and Ajay Tamta greet each other upon assuming charge as the Union textiles minister and minister of state, textiles respectively. Photograph: PTI.
Talking to reporters, he asserted that dialogue is the key to avoid agitations and that education is not a subject for party politics. "I am a product of student agitation, so we will always talk with everybody. So with dialogues in place, there will be no necessity of agitation," Javadekar said.
Putting up a brave face, Irani, whose shifting is being seen as demotion, played down her portfolio change with a popular line of a Hindi movie song, "Kuch toh log kahenge, logon ka kaam hai kehna."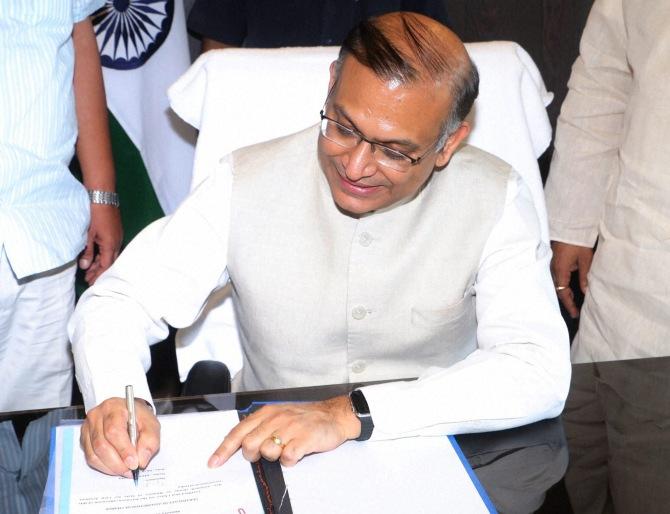 IMAGE: Jayant Sinha takes charge as the minister of state for civil aviation. Photograph: PTI
"I am happy that I have been given an opportunity especially when a special package (of Rs 6,000 crore for the apparel segment) has been announced for the sector. This signifies that my party and especially the prime minister has faith that I have the capacity to implement the roadmap that was projected through the Cabinet for the rest of the country," Irani said.
Taking up his new assignment, Prasad emphasised that he will strive to find a "common ground" between the government and the judiciary on the issue of appointment of judges to the Supreme Court and high courts.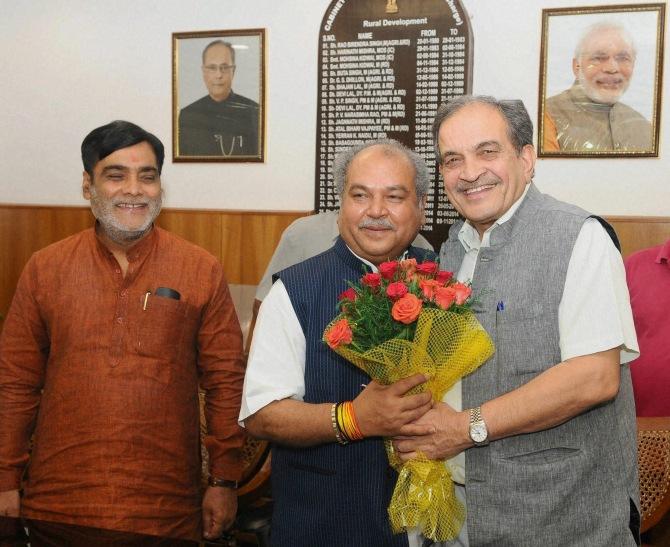 IMAGE: Narendra Singh Tomar is greeted by the Union Steel Minister Chaudhary Birender Singh after taking charge as Union minister for rural development, panchayati raj, drinking water and sanitation. Minister of State, Ram Kripal Yadav is also seen. Photograph: PTI
The remarks assume significance in the backdrop of government making efforts to iron out differences with the Supreme Court collegium on the memorandum of procedure (MoP) -- a document which guides the appointment of judges to the higher judiciary.
"We will be consulting, we will be meeting in an effort to find a common ground on the issue of judicial appointments... There is need to work in harmony...We respect the independence of the judiciary," he told media persons.
Other ministers included M J Akbar, Anil Madhav Dave and Santosh Gangwar, Rajen Gohain who assumed office as ministers of State for External Affairs, Environment, Finance and Railways respectively.
Taking over as Information and Broadcasting minister from his Cabinet colleague Arun Jaitley, M Venkaiah Naidu justified the latest expansion of Union council of ministers, saying 78 ministers for a country as large and diverse as India is certainly not large, rebutting opposition's charge of "maximum government, minimum governance".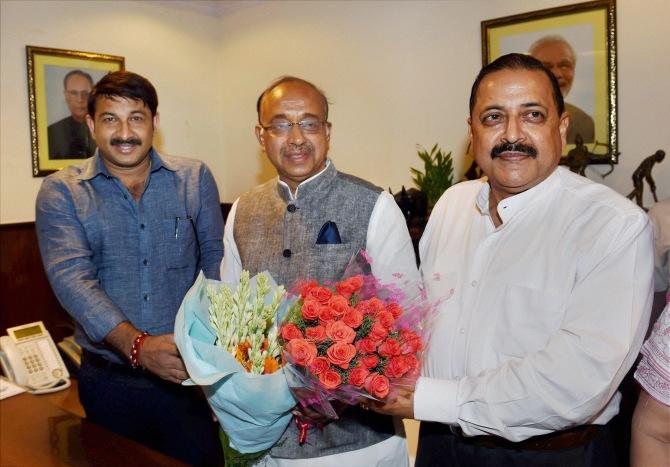 IMAGE: nion Minister of State Jitendra Singh and BJP MP Manoj Tiwari greet Vijay Goel who took charge as minister of state (independent charge) for youth affairs and sports. Photograph: Manvender Vashist/PTI
Lauding Modi, Naidu said he is the "hope of the nation" and after long time there is a combination of stable government and able leader.
Claiming that the whole country is in favour of GST, Ananth Kumar, who has got Parliamentary Affairs ministry in addition to existing Chemicals & Fertilisers portfolio, said passage of this "very important" bill will be his priority for which government will talk to all political parties.
"The GST is a very important bill. The whole country is in favour of passing this bill as early as possible. We will talk, discuss and request all political parties that this bill should be passed in this session (monsoon), so that it can be implemented as early as possible," he told reporters after assuming his new charge.
Gangwar too expressed confidence of getting the much-delayed GST Bill passed in the upcoming Monsoon session of Parliament.
Gangwar, who was shifted from the Textiles ministry to the all-important Finance ministry, assumed charge along with Arjun Ram Meghwal, who has also been made a minister of state in the finance ministry.
Asserting that development and environment go together and are "not against" each other, Dave said all projects undertaken by his predecessor will continue although he would take a week's time to understand the functioning of the department.
Gohain, who is among the new faces in the Union government, said safety and security of passengers as well as expansion of rail connectivity in the entire north-east will be his top priority.
"I am from the north-east region. These states are hilly region. So getting rail connectivity in the region is a difficult task. But our government under Prime Minister Narendra Modi has promised to provide rail connectivity to all states of north-east by 2020 and we will work towards the goal," he said.
S S Ahluwalia, the new minister of state for agriculture and farmers welfare, said his focus will be to accelerate development of agriculture sector and reaching out to the farmers. He also took charge as minister of state for parliamentary affairs.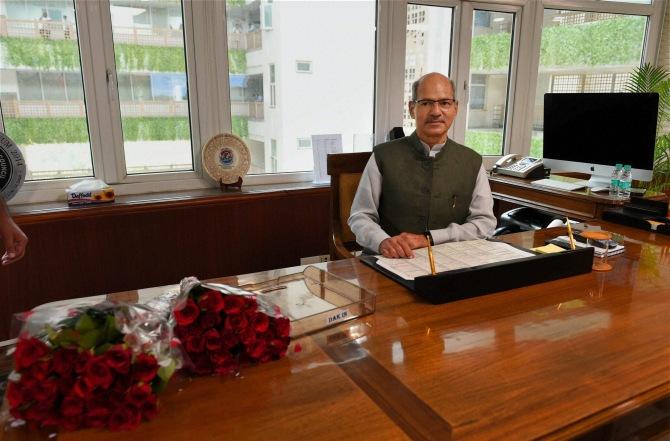 IMAGE: New environment minister Anil Madhav Dave takes charge at Paryavaran Bhawan. Photograph: Shahbaz Khan/PTI.
Jayant Sinha, who was shifted from finance ministry, also took charge as minister of state for civil aviation.
Narendra Singh Tomar, after taking charge as minister for rural development, Panchayati raj and drinking water, said the real development of India is closely linked to the development of rural India.
Tomar said he will make all efforts to give concrete shape to the prime minister's dream of inclusive development. He was earlier minister of steel and mines.
Piyush Goyal, who has been given charge of mines ministry, also took charge of it. This is in addition to Goyal's current charge as minister of state (independent charge) for power, coal and new and renewable Energy.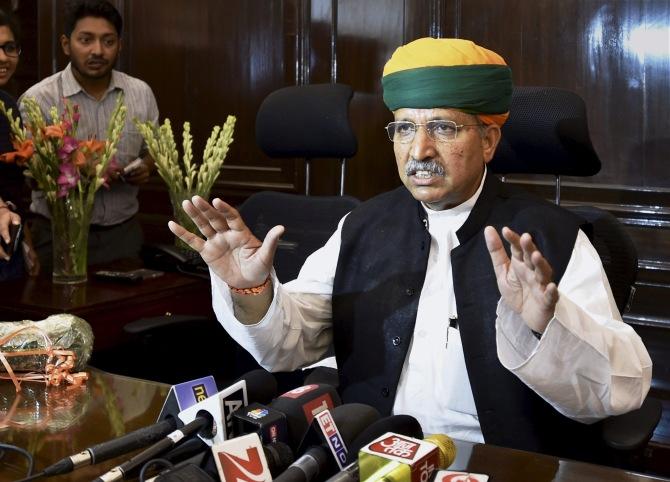 IMAGE: New Minister of State for Finance Arjun Ram Meghwal takes charge at his office at North Block. Photograph: Kamal Singh/PTI
Newly-appointed MoS in HRD ministry Mahendra Nath Pandey said his priority was on making quality education accessible to all the citizens of India.
After assuming charge as new minister of state in the law ministry, PP Choudhary, said it will be an opportunity for him to work for the common man in ensuring timely justice.
Rajya Sabha Member of Parliament from Maharastra, Ramdas Athawale, who has been appointed as minister of state for social justice and empowerment, said ensuring welfare of Dalits will be his priority.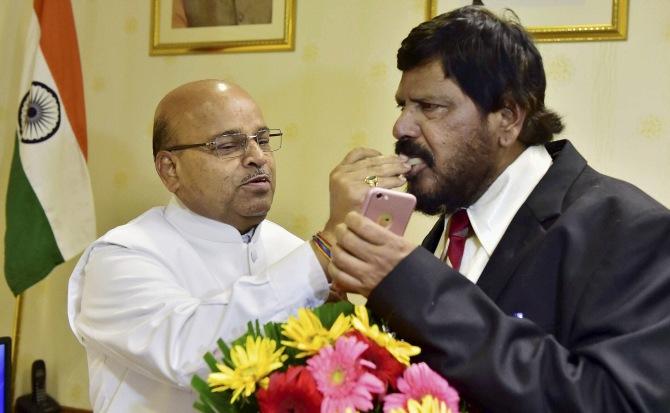 IMAGE:MOS Ramdas Athawale is greeted by Thaawar Chand Gehlot, Minister of Social Justice and Empowerment at his office before the former took charge as Minister of State in the ministry. Photograph: Kamal Kishore/PTI
Ajay Tamta also took charge as minister of state for textiles while Vijay Goel assumed charge as minister of state (independent charge) of the ministry of sports and youth affairs.
Interacting with the media, Goel said he will work round-the-clock for promotion of sports and welfare of sportspersons. He said, efforts would be to generate interest among youth for participation in sports in a big way so that youth energy is channelised in the right direction.
Another Minister CR Chaudhary, appointed MOS consumer affairs, food and public distribution, said a proper marketing mechanism was the need of hour to save farmers from losses.