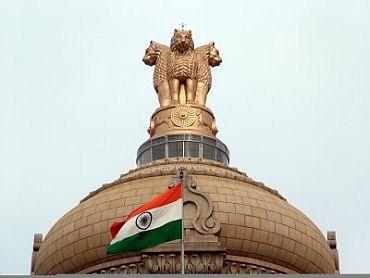 After much delay, the controversial Communal Violence Prevention Bill was on Monday cleared by the Union Cabinet after removal of certain provisions, reducing the role of the legislation in handling of riots and making it neutral between communities.
The 'Prevention of Communal and Targeted Violence (Access to Justice and Reparations) Bill, 2013, which is facing stiff opposition from BJP and some other parties, is likely to be introduced in Parliament on Tuesday.

Home Minister Sushilkumar Shinde said the bill was approved by the Cabinet meeting chaired by Prime Minister Manmohan Singh and "We will try to table the Bill in Parliament on Tuesday."
The bill, in its initial avatar, had mentioned that the onus of riots would be on the majority community. However, after much hue and cry by BJP and some other parties, this provision was amended and has now been made neutral between all groups or communities.
The powers of intervention of the Centre in the event of riots have also been diluted in the revised bill as a result of which the Union government will not have any perceived overriding powers anywhere.
The fresh draft says, "if the state government is of the opinion that assistance of the Central government is required for controlling the communal violence, it may seek the assistance of the Central government to deploy armed forces of the Union for such purposes..."
Earlier, the Centre was given unilateral powers to send central paramilitary forces during the outbreak of communal violence without consulting the state government.
The amendments were carried out in the wake of criticism by BJP besides West Bengal Chief Minister Mamata Banerjee and Tamil Nadu Chief Minister J Jayalalithaa.

In the wake of apprehensions over the proposed law, government sources had claimed earlier that the bill is not hitting the federal structure of the country and Central government's role will largely be of coordination and will act only when the state government seeks help.

The BJP has maintained it will oppose the legislation when it comes up for discussion in Parliament on the ground that it would be a "threat to India's communal harmony."
Gujarat Chief Minister and BJP's Prime Ministerial candidate wrote to Prime Minister Manmohan Singh some days back, saying "Communal Violence Bill is ill-conceived, poorly drafted and a recipe for disaster."

He had added that "The timing to bring the bill is suspicious owing to political considerations and vote bank politics, rather than genuine concerns".
Responding to this, Shinde had said said, "We will bring the communal violence bill this session, Modi can keep doing his work."