The Bharatiya Janata Party and the Trinamool Congress shared the honours by winning two Lok Sabha seats each, claiming it was a vindication of their stand on demonetisation, as ruling parties in six states and Puducherry held sway in byelections, retaining most of the 10 assembly seats up for grabs.
Here are the state-wise results.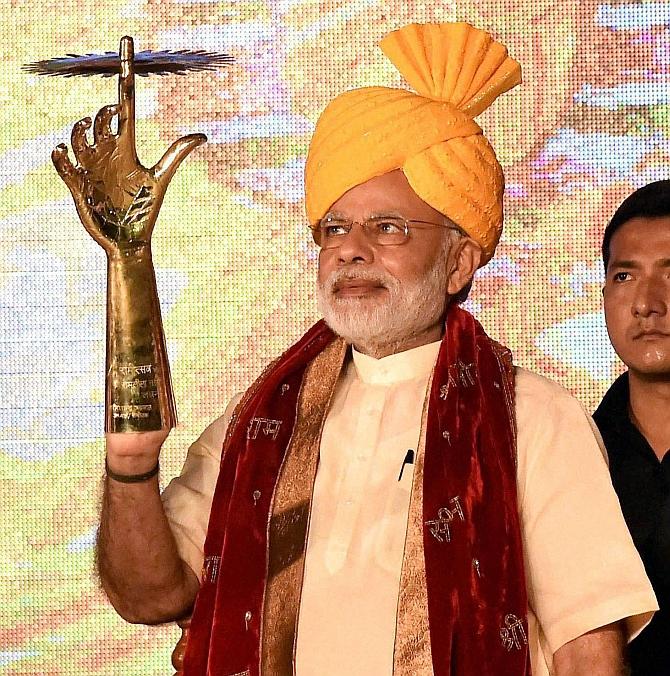 Assam: BJP triumphs
BJP today won the bypoll to Lakhimpur Lok Sabha and Baithalangso assembly seats in Assam defeating Congress, its nearest rival.

Party candidate Pradan Barua won the Lakhaimpur LS seat by a margin of 1,90,219 votes defeating his nearest rival Congress's Hema Prasanga Pegu by a convincing 1,90,219 votes, the returning officer said.

BJP retained the seat, which was earlier held by Chief Minister Sarbananda Sonowal who quit it to contest the Majuli assembly seat in April this year and take on the reins of the state.

Mansing Rongpi won the Baithalangso assembly seat. While he retained the seat, the BJP won the seat as the contestant had resigned from Congress to join it in July which necessitated the bypoll this year.

Rongpi defeated his nearest Congress rival Ruponsing Ronghang by 16,600 votes. Rongpi garnered 72,160 votes, while Ronghang polled 55,560 votes, said the returning officer.
Puducherry: Congress wins
Senior Congress leader and Puducherry Chief Minister V Narayanasamy today won the bypoll to the Nellithope assembly constituency defeating AIADMK's Om Sakthi Segar, by a margin of 11,144 votes.
While Narayanasamy, whose victory was on expected lines, polled 18,709 votes out of the total 26,564 votes, Segar got 7,565 votes.
A John Kumar of the Congress had vacated the seat to enable Narayanasamy, who is not a member of the assembly, contest a by-election before December 6 deadline for getting elected to the House.
Narayanasamy was accorded a tumultuous reception by volunteers of Congress and DMK, its alliance partner in the assembly.
Speaking to reporters outside the counting centre, he said he was grateful to the workers and functionaries of the Congress and DMK and its President M Karunanidhi and its treasurer M K Stalin.
Thanking the people of Nellithope for supporting him in the bypoll, Narayanasamy asserted that he would ensure that Puducherry developed into a model state.
"I will spare no efforts to ensure that unemployment problem of the youth in the constituency is expeditiously tackled."
Congress cadres burst crackers at various places to celebrate the victory of Narayanasamy.
Congress has a strength of 15 while its ally DMK two in the 30-member assembly.
Tamil Nadu: AIADMK wins big
The All India Anna Dravida Munnetra Kazhagam retained the Thanjavur assembly constituency by a margin of over 25,000 votes. In Thanjavur, AIADMK candidate M Rengasamy won by a comfortable margin of over 25,000 votes against DMK candidate Anjugham Boopathy. At the end of the 20th and final round, Rengasamy secured 1,01,362 votes, while Boopathy polled 74,488 votes out of the total 1,86,444 votes.
In Aravakkurichi, AIADMK's V Senthil Balaji was leading by a good margin over his nearest DMK rival K C Palanisamy.
What began as a margin of nearly 2,000 votes at the end of the first round, went on to widen by the 11th round for Balaji, with the AIADMK candidate leading by a margin of over 18,506 votes.
In Thirupparankundram assembly segment, AIADMK's A K Bhose defeated DMK's P Sarvanan by a margin of 42,627 votes to win the assembly bypoll.
The AIADMK also retained the Thanjavur assembly constituency by a margin of over 25,000 votes and was surging ahead in two other segments in Tamil Nadu. In Thanjavur, AIADMK candidate M Rengasamy won by a comfortable margin of over 25,000 votes against DMK candidate Anjugham Boopathy.
Madhya Pradesh: Demonetisation doesn't hit BJP
The BJP retained the Nepanagar Assembly seat in Madhya Pradesh with party candidate Manju Dadu defeating her nearest Congress rival Antar Singh Barde by a margin of 42,198 votes. Manju bagged 99,626 votes while Barde got 57,428 votes, an election official said.
BJP fielded Manju Dadu, daughter of late MLA Rajendra Shyamlal Dadu whose death in an accident necessitated the bypoll. BJP retained the seat by winning it with a margin of 42,198 votes. Dadu's father had won the election in 2013 by a margin of 22178 RPT 22178 votes. Besides Congress and BJP, the Republican Party of India (A) (nominee Ms Revanta) and Lok Janshakti Party (Ber Singh) also contested the bypoll.
BJP's Gyan Singh wons the Lok Sabha seat from Shahdol by a margin of 60383 votes.
West Bengal: TMC takes it all
Trinamool Congress candidate Partha Pratim Roy won the Coochbehar Lok Sabha seat by 4,13,231 votes.
Another TMC candidate Saikat Panja wins Monteswar assembly bypoll defeating his nearest CPIM rival Md Osman Gani Sarkar by 1,27,127 votes.
Trinamool Congress' Dibyendu Adhikari won the Tamluk Lok Sabha seat by 4,97,528 votes.
Arunachal Pradesh: BJP wins
North East Democratic Alliance candidate Dasanglu Pul of BJP won the Hayuliang assembly bypoll after defeating her lone rival Yompi Kri, an Independent candidate, by 942 votes. Pul, who was contesting on a BJP ticket, polled 5,326 votes while Kri could secure 4,384 votes in the by-poll held on November 19.
Tripura: Left bastion is intact
The ruling CPI-M in Tripura won the two assembly seats, Barjala (SC) and Khowai, by defeating Congress and TMC candidates respecitively.
CPI-M candidate Jhumu Sarkar trounced his nearest BJP rival Shistamohan Das by a margin of 3,374 votes in Barjala (SC) constituency. CPI-M secured 15,769 votes, while BJP garnered 12,395 votes. By-poll in the constituency was necessitated due to the resignation of Congress MLA Jitendra Sarkar in June last. Congress secured only 804 votes, while Trinamool Congress (TMC) 5,629 votes.
In Khowai constituency, CPI-M candidate Biswajit Datta trounced his nearest TMC candidate Manoj Das by a margin of 16,047 votes. CPI-M secured 24,810 votes and TMC 8,763 votes. The seat fell vacant due to death of CPI-M MLA Samir Deb Sarkar, a veteran party leader. The opposition Congress candidate, who secured 13,859 votes in the last Assembly elections in 2013, secured only 696 votes in this election. Congress suffered a split in June last when six legislators resigned from the party and joined TMC.
Photograph: PTI Photo