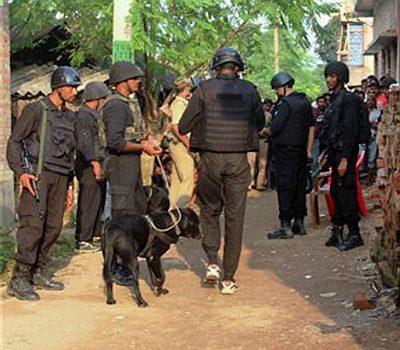 The National Investigation Agency has, in separate incidents, arrested two individuals in connection with the Burdwan blast case. The first arrest was that of Suzena Begum, wife of key accused Sahanur Alam and the second person arrested was Zia-ul-Haque, wanted for indoctrinating youth in sectarian ideology.
Suzena was arrested by a joint team of Assam Police and Central Reserve Police Force from the inter-state bus terminus at the outskirts of Guwahati on Thursday night.
Earlier, sleuths from the National Investigation Agency searched Suzena's residence in Chatala village in Sorbhog in western Assam's Barpeta district on three occasions and seized several incriminating documents, foreign currency etc.
The NIA has sealed all the bank accounts in Suzena's name.
Both Sahanur and Suzena had fled their village a week after the October 2 Burdwan blast occured. The two were suspected of having links with Jamaat-ul- Mujahideen Bangladesh and were instrumental in facilitating hawala payments for JMB modules in West Bengal.
The second arrest, that of Zia-ul-Haque, was made at Masjid Talha in Khagragarh of Burdwan district where he was hiding. Haque's position was traced by the NIA with the help of central security agencies.
According to an NIA spokesperson, Haque was a close associate of the accused Rezaul Karim and Yusuf Sheikh. During investigation, it was found that Haque was part of a jihadi training module where he was a key motivator for trainees in the fundamentalist ideology.
He used to facilitate the training module by collecting jihadi videos related to Gujarat and Assam riots and killing of Rohingya Muslims.
These video clips were then shown to the trainees at Simullia and Mukhimnagar Madrassas, the NIA alleged.
The investigation into the role of Zia-ul-Haque showed that he was also closely associated with top JMB commanders including absconding commander Sajid for whose arrest a cash reward Rs 10 lakh has been announced by NIA.
Although 11 persons have already been arrested for alleged JMB links the police is still on the lookout for five other individuals, said Director General of Assam Police Khagen Sarma.
Additional Inputs: Agencies