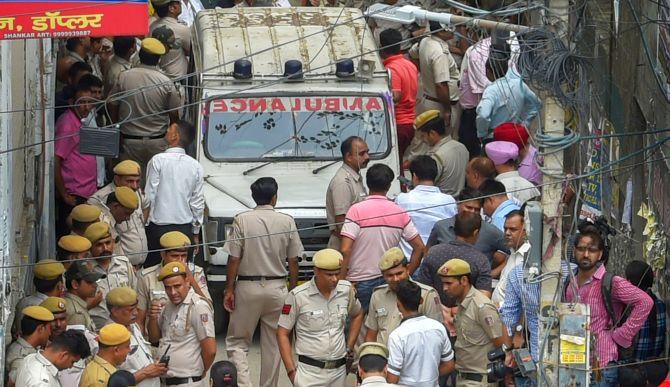 As the mystery deepened over the deaths of 11 members of a family in north Delhi's Burari locality, the relatives on Tuesday insisted that they were killed and it was not a case of suicide.
The relatives said the Bhatia family was gearing up for the wedding of Priyanka, 33, who got engaged last month. She was among those found dead at the house on Sunday.
Police are investigating whether the 11 members of the family, aged between 15 and 77 years, killed themselves as part of a suicide pact, after they found handwritten notes from the house, which indicated a "religious or spiritual angle" to the deaths.
The handwritten notes stated "the human body is temporary and one can overcome fear by covering their eyes and mouth".
Sujata Nagpal, the daughter of the 77-year-old Narayan Devi found dead on the floor, said the media was speculating things and circulating suicide theories.
"I used to speak to my mother every alternate day. Everything was going fine within our family. We are a well educated family and do not believe in babas. It is not a case of suicide. The media has been speculating things and publishing wrong information that my family members committed suicide," she said.
Devi's niece Geeta Thakral suspected that someone from outside the family was involved in the deaths. She came to know about the incident at 6.30 pm on Monday.
"They were religious like any other normal family. After hearing about various cases involving babas and tantriks, our family hardly believed in them.
"The family business was going fine. There was no fight within the family. They were busy with wedding preparations. They were all happy. So why would they commit suicide at all," she asked.
Another relative, Manoj Bhatia said, "I am in a complete state of shock. They weren't staunch in their religious beliefs. We still cannot understand the reason (of the deaths) but this is definitely not a case of suicide."
The deceased were Narayan Devi, who was found dead on the floor, her daughter Pratibha, 57, her two sons Bhavnesh, 50, and Lalit Bhatia, 45. Bhavnesh's wife Savita and their three children – Meenu, 23, and Nidhi, 25, and Dhruv, aged 15.
Lalit Bhatia's wife Tina and their 15-year-old son Shivam were also among those found dead. Pratibha's daughter Priyanka, who was engaged last month and would have been married by the end of this year, was also found hanging. Locals said Meenu was preparing for entrance exams and Nidhi was pursuing her Masters.