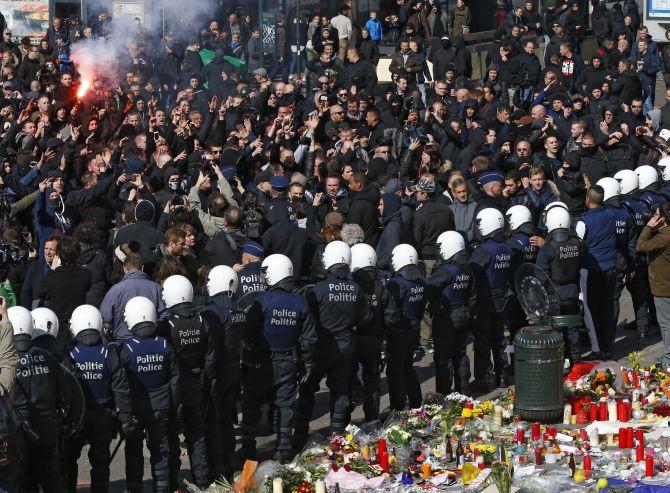 The death toll in Tuesday's horrific terrorist attacks in Brussels rose to 35 after four people died in the hospital on Sunday, according to the Belgian Health Minister.
Meanwhile, protests erupted in central Brussels on Sunday as the riot police were called to disperse hundreds of self-described fascists who rallied around a temporary shrine made to honor the victims of Tuesday's terror attacks.
Protesters were throwing chairs, trash cans and other objects at the police.
"We had 340 hooligans from different football clubs who came to Brussels and we knew for sure that they would create some trouble," said Police Commissioner Christian De Coninck.
The riot police backed by water cannons surrounded the group, who members held a banner denouncing the Islamic State group that claimed responsibility for the bombings, and forced them toward a nearby train station.
Around 10 people were arrested and that two police officers were injured, De Coninck told media persons.
Amid the protest and prayer meetings, the police have carried out 13 house searches on Sunday and detained four people for unspecified terrorism incidents, according to the country's federal prosecutor's office.
At least four others so far were being held on terrorism related charges in Belgium.
On Sunday, one terror suspect was detained in the Netherlands following a request from French authorities, a spokesman in Rotterdam said.
A local prosecutor's spokesman told ABC News that France made the request to the Netherlands to detain a suspect accused of being "involved in planning a terror attack" in France.
Police in Italy and Germany were also investigating suspects for their possible links to the Brussels attacks.
As anti-terrorism operations continued across Europe, Belgian Interior Minister Jan Jambon acknowledged that decades of neglect had hurt the country's ability to respond to violent extremism despite the government's recent spending on security services.
Despite investing 600 million euros ($670 million) the last two years on anti-terror mechanisms, Jambon admitted those investments needed time. "It is also not because you put the money in now that tomorrow all this is visible on the ground," he said.
Image: Right-wing demonstrators protest against the wave of terrorism in front of the old stock exchange in Brussels, Belgium. March 27. 2016. Photograph: Yves Herman/Reuters