Maharashtra Chief Minister Devendra Phadnavis on Sunday faced more flak for "brokering the deal" with Maharashtra Navnirman Sena instead of enforcing law and order, amid the row around the release of Karan Johar's Ae Dil Hai Mushkil.
Fadanavis had on Saturday mediated a meeting between MNS chief Raj Thackarey and the makers of the film, at his residence 'Varsha' in Mumbai to cool tempers and facilitate the smooth release of the movie after MNS called off its agitation.
The angry reactions from political parties and noted celebrities came after Bollywood film producers announced that they will not engage with Pakistani artistes and will contribute Rs 5 crore to the Army welfare fund as demanded by Raj Thackeray-led MNS.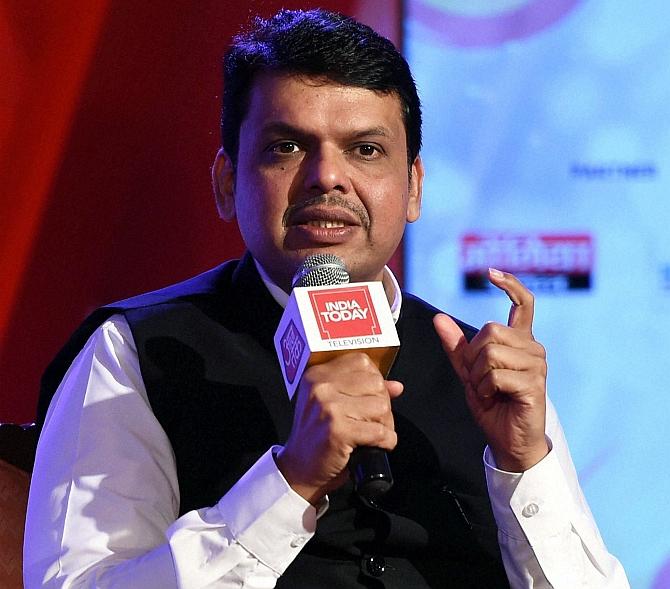 Shabana: 'What a sorry state of affairs!'
Veteran actress Shabana Azmi, in a series of posts on social networking platform Twitter, criticised Fadnavis, saying: "What a sorry state of affairs! CM brokers deal and buys patriotism for 5 crores! After Home minister had promised peaceful passage for #ADHM."
"Sangh Parivar speaks in different voices most blatant expression is CM MHRSTA brokering deal with MNS instead of enforcing law and order for ADHM release," Azmi, 66, wrote.
Further slamming MNS, Azmi said that the party of noone to decide people's patriotism.
"MNS will decide whether I am patriotic or not? I bow to the Indian Constitution, Raj Thackeray does not. Whose patriotism needs questioning?" Before the meeting with the CM, Bhatt and a representative from Dharma Productions, which has produced "Ae Dil Hai Mushkil", had met Union Home Minister Rajnath Singh, who had assured a smooth release of the film.
"CM Fadnavis shows scant respect for Home Ministers assurance of safe passage for #ADHM. BJP better haul him up and demand explanation."
Uddhav: 'Yeh to Hona hi tha'

Sena chief Uddhav Thackeray poked fun at the meeting called by Fadanavis to resolve the imbroglio.
"I have not got details about the meeting. But I have news that all three (Fadnavis, Johar and Raj Thackeray) have decided to produce a movie. The name has also been finalised. It is titled 'Yeh to Hona hi Tha'," Thackeray told media persons in Mumbai.
Responding to a question, Thackeray said Shiv Sena did not participate in the protests alongside MNS as they (Sena) were gauging the situation.
"We decided to keep aloof and see who takes what stand on this issue," Thackeray said refusing to answer any further question on the controversy.
"Sometimes it is better not to answer a few questions," he said, adding "people are wise enough to judge the situation."
Congress: 'What kind of a CM is he?'
Congress demanded the dismissal of Fadnavis over the 'Ae Dil hai Mushkil' row, alleging that he had helped in "extortion" from the film industry.
Terming the development as shocking, Congress spokesman Tom Vadakkan told reporters that whether such "extortion" can be done by "blackmailing" the film industry.
"The chief minister, who should protect the film industry, himself presided over a meeting with the MNS chief in which the controversial deal was struck. What kind of Chief Minister he is. Is rule of law relevant in Maharashtra? Where is rule of law in the country? The Cinematography Act should be burnt," he said angrily.
He warned that "today such a thing has happened in Mumbai, tomorrow it could take place in Chennai and then in Kerala".
Taking a swipe at the Prime Minister, he said Narendra Modi "talks much about surgical strikes and so he should do surgery on Fadnavis by dismissing him".
Party's chief spokesman Randeep Surjewala also hit out Fadnavis.
"CM Fadnavis has demeaned his office & disregarded Constitution by playing vendor to diktats of MNS. Democracy shrugged for a BMC election deal," he said in a series of tweets.
He alleged that "self styled goons, compliant film makers bartering freedom of expression brokered by BJP's Mah. CM would now be India's new Censor Board."
Earlier, he had wondered on the micro-blogging site as to "Why would our proud Indian Army accept donations forced by MNS goons from subservient filmmakers with profit motive?"
Photograph: Shashank Parade/PTI Photo