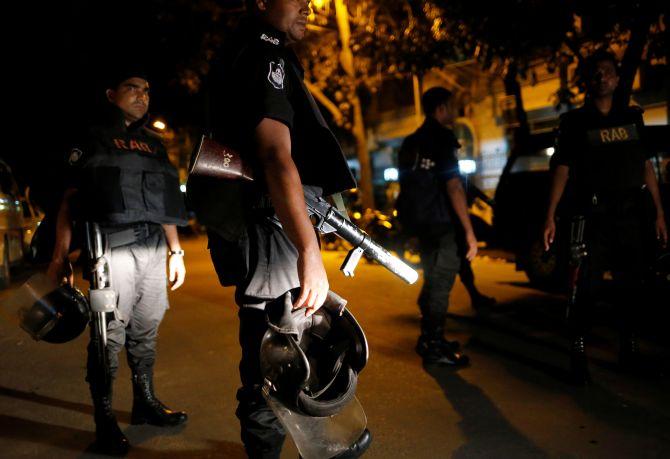 A British national and a student of a Canadian University have been arrested for their alleged involvement in Bangladesh's worst terror attack at a cafe in Dhaka last month that killed 22 people, including an Indian girl.
Hasanat Karim, a Bangladeshi-British citizen, and Tahmid Hasib Khan were arrested on Wednesday and booked under the Code of Criminal Procedure's Section 54, which allows arrest without warrants on grounds of suspicion, police said.
A Dhaka court on Thursday remanded them to police custody for eight days.
The two were dining at the Holey Artisan Bakery at the time of attack and rescued by security personnel. Islamist militants killed 22 people during the attack on July 1.
Tahmid, 22, was detained from the Bashundhara residential area and Hasanat, 47, from Gulshan, bdnews reported.
Their families, however, had been maintaining that the two did not return since July 2, after being rescued from the cafe, the report said.
Islamic State claimed responsibility for the attack and released photos of the five attackers who were killed during the assault on the restaurant.
Law enforcers, however, said home-grown militant outfit Jama'atul Mujahideen Bangladesh was responsible for it.
After the end of siege, 32 people, including 13 rescued hostages were taken to the detective branch office for de-briefing. All of them were released, except for Hasanat and Tahmid, their families claimed.
Both Hasanat's father AR Karim and Tahmid's father Shahriar Khan told the media on several occasions that their sons are yet to return and that they suspect they were in police custody.
Until now, the police had been evading questions about their whereabouts, but said that they were probable suspects.
In a media briefing on Tuesday, Inspector General of Police AKM Shahidul Hoque said that Hasanat's role was still not clear.
"His background and his behaviour on that day inside the cafe evoked suspicion. We are trying to gather concrete evidence against him. We can take him in custody whenever it's necessary," said Hoque.
Hasanat's family claimed that he along with his wife and kids had gone to the restaurant to celebrate his daughter's birthday.
Hasanat was relieved from his teaching job at NSU in 2012 on allegations of involvement with banned group Hizb-ut Tahrir.
Tahmid, whose father is a businessman, studies at a university in Canada. His family said that he had come to Dhaka a day before the attack and had gone to the cafe to hang out with his friends.