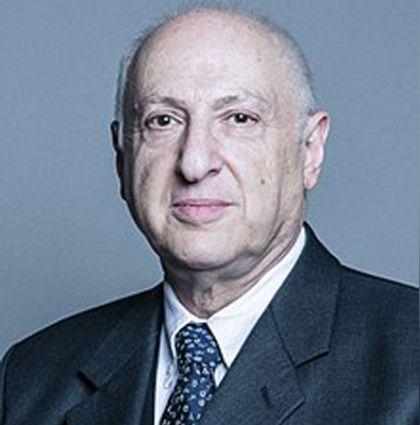 British MP and former Bangladesh premier Khaleda Zia's lawyer Lord Alexander Carlile was trying to create problems in Indo-Bangladesh ties, the external affairs ministry said on Thursday, a day after he was denied entry to India for not having an "appropriate visa".
Home ministry officials also said that Carlile wanted to indulge in "political acts" by addressing a press conference, which was in violation of his visa conditions.
Carlile, who was sent back from the Delhi airport to the United Kingdom on Wednesday, alleged, while addressing reporters via video-conferencing from the UK, that he was denied entry into India under pressure from the Bangladeshi government.
He also claimed that Indian authorities did not give him the "true reason" for revoking his visa.
Carlile also issued a statement, which he was to give during his Delhi visit. The statement alleged that the charges against Zia were politically motivated and there was "no admissible evidence" against the former prime minister.
Responding to queries regarding Carlile, ministry of external affairs spokesperson Raveesh Kumar said his intended activity in India was "incompatible" with the purpose of his visit as mentioned in his visa application.
"What he intended to do is now very clear when you go through the statement he wanted to make. He applied for a business visa, what kind of business is this," Kumar said.
Asserting that the "motivation" of the visit was clear from the beginning, Kumar said despite being told in advance that his e-visa was not valid, he came with a return boarding pass for a flight which was to take off after two hours.
"Motivation is a bit suspect... he was trying to create some kind of a problem between India and Bangladesh, and to create some kind of a misunderstanding between India and the opposition party in Bangladesh (Zia-led BNP)," Kumar said.
Asked about MEA's assertion that his intended activity in India was incompatible with the purpose of his visit as mentioned in his visa application, Carlile said it was "completely untrue" and a "lie".
He alleged that there was "intolerable political pressure" from the Bangladeshi government to try and stop him from going to India.
Alleging that the Bangladesh government called in the Acting Indian High Commissioner in Dhaka and asked him to urge the Indian government to refuse me entry, he said the Indian government "ought to be ashamed of themselves, denying a British QC, a member of the House of Lords, entry into India".
Observing that the right to grant visa was the sole prerogative of the country concerned, the spokesperson said, "You want to come in and you want to say something from Indian soil. You could have done this from London. There is a bit of a suspicion there, the intention itself is a bit doubtful. If he is coming to India, he has to respect the laws of the land and that is true for any other country," he said.
Carlile also claimed that he had a valid business e visa granted several days ago by the India government.
He said he was coming to Delhi for two reasons -- to attend a press briefing as a leading lawyer in the team representing Zia and to meet colleagues in a Commonwealth body that deals with human rights.
"When I embarked for India at Heathrow airport yesterday, my visa was checked through the automatic system on two occasions. When I arrived in Delhi later and switched my phone on, I was informed that my visa had been revoked," Carlile said.
"The authorities at Delhi airport were very polite and helped me to return to the UK by another flight. However, the Indian authorities have given me no true reason for revoking my visa," he said.
There are several cases pending against Zia, including of graft.
Her party, the Bangladesh Nationalist Party, claims that the cases are politically motivated to keep its party chief out of the national elections scheduled for December.
He said in London that he had decided to make the journey to India for its "free media" after the Sheikh Hasina-led Bangladesh government had "deliberately" delayed a decision over granting him a visa to Dhaka.