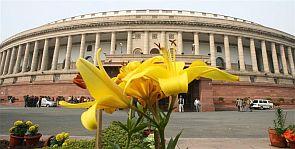 The government on Monday achieved a breakthrough in the logjam in Parliament with the opposition agreeing to allow financial business to be taken up on Tuesday.
The stalemate ended after a meeting of floor leaders of various parties convened by Lok Sabha Speaker Meira Kumar.

"All financial business will be taken up in Parliament tomorrow (on Tuesday)," Parliamentary Affairs Minister Kamal Nath told reporters after the meeting.
He dismissed suggestions that Parliament would be adjourned sine die after passage of financial business. "There is no talk of adjourning Parliament sine die (before May 10)," he said.
Along with the Finance Bill, some other financial business pending include the Railway Budget and Demand for Grants of ministries.
"It is unfortunate that in the last five days Parliament did not run. I am optimistic and hopeful that the House will function," Nath had said before the Speaker's meeting.
Both Houses of Parliament have faced repeated adjournments over the issue of coal scam and JPC draft report.
BJP is demanding the resignation of Prime Minister Manmohan Singh and Law Minister Ashwani Kumar on the issue of CBI's report to the Supreme Court on coal block scam.
15 JPC members of opposition parties have expressed "no confidence" in Chairman P C Chacko and have sought his removal by the Speaker on the 2G draft report, giving a clean chit to the Prime Minister and the Home Minister.


Talking to reporters after the meeting with political parties, Nath termed as "unfortunate" the repeated adjournment of Parliament.
He said, "Political parties and all of us have to remember that Parliament is not of the Government, Parliament is not of the Congress party, Parliament is of all MPs and of all political parties."
"All that can be said outside, all demands which can be made outside can be made on the floor of the House. That is the basis and genesis of the Parliamentary democracy," he said.
Asked about the fate of Food Security bill and Land Acquisition Bill, he said the two key legislations are "for the people of the country and anybody who blocks it is not doing a service" to them.