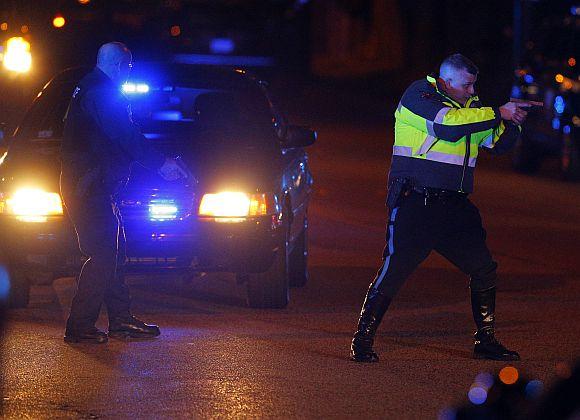 Simanta Roy reports from Boston for Rediff.com on the sombre scenes as the manhunt continues for the surviving suspect.
"I just heard a gunshot outside my building," Cambridge resident Melanie Cyr said.
Cyr lives one street away from where the Boston Marathon suspects lived, and she describes the scene outside her window on Friday morning as littered with police cars and yellow tape on either side of her street.
With Boston on lockdown, authorities are advising everyone to stay inside.
"My boyfriend and I were on our porch, and our cops just told us to go back in," she said.
The constant buzz of helicopters have continued all night into the morning hours. In Cambridge on Friday most of the streets are eerily dead, and roads that are usually swarmed with pedestrians and drivers on their way to work are empty and still.
The mood is somber, and the weather overcast.
People across from Cambridge resident Melanie Cyr's apartment have been evacuated at this time.
Watertown resident Laura McAliffe said she heard gunshots and yelling outside her window early on Friday morning, presumably when the first suspect had conducted the shootout and set off explosions.
"There were dozens of cops outside my apartment," McAliffe said. "There was so much yelling and lots of blasts. I didn't sleep at all."
At the moment, she has been busy on the phone talking to concerned loved ones who have been calling all morning.
"Everyone is panicking, including me," she said. "But I am safe."
Kat Cashman, who has lived on Norfolk Street (the same street as the suspects) for six years now, says she hasn't slept all night.
"We can't see anything from our windows, but there's so much activity according to CNN just down the street in front of familiar blocks --- this is surreal, and I've never seen anything like this. I can't believe the suspects have been under our nose the whole time."
Kyle Waltz, who also lives a few blocks from the suspects' apartment, describes the occasional siren but an otherwise organised scene from his window.
"For now, I've just been glued to the TV all morning, and my doors are locked and windows shut. That's all we can do for now as this event continues to unfold."