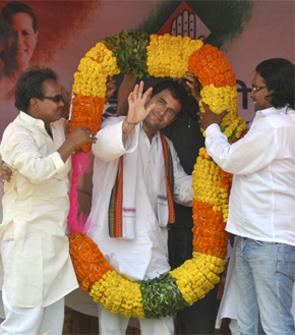 Congress Vice-President Rahul Gandhi has finally spoken!
And while we can't really find fault with what he had to say -- he slammed an ordinance that serves the interests of tainted politicians -- the timing could not have been worse.
He gate-crashed a press conference being held by party colleague Ajay Maken to defend the ordinance, declared that the piece of legislation was 'nonsense' and walked out with his entourage before the shell-shocked journalists could ask him any questions.
Worse, Gandhi's public denunciation of the ordinance directly undermined the authority of Prime Minister Manmohan Singh, whose government had approved the legislation.
Worse still, Gandhi mounted his deliberately planned 'dramedy' at a time when Dr Singh was out of the country, in the United States, and preoccupied with two mini-summits of paramount importance.
As if the prospect of meeting United States President Barack Obama and Pakistan Prime Minister Nawaz Sharif was not stressful enough for the PM, Gandhi decided to bring some zing to the PM's party by publicly trashing his authority.
Can you imagine any other Congress leader, no matter how senior, mocking the PM's authority in full media glare and getting away with it?
And since no member of the dynasty can ever do any wrong in the Congress, party sycophants are falling over each other and feting Gandhi for his headline-grabbing antics.
Do YOU, our dear readers, think Rahul Gandhi acted like a spoilt brat by publicly humiliating India's PM?
If you think he did, register your protest against the Congress prince by clicking on the BOO icon below.