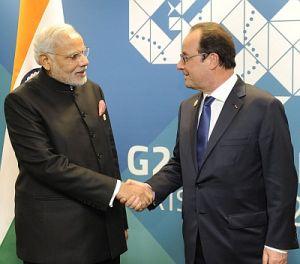 'Make in India' will be central to Mr Modi's visit to Europe and Canada. It is difficult to predict what will happen with the Rafale deal, but if it goes through, it will undoubtedly become the 'Mother' of all 'Make in India' projects,' says Claude Arpi.
Remember when President Xi Jinping landed at Ahmedabad in September 2014? Prime Minister Narendra Modi was determined to give Xi and Peng Liyuan, his beautiful wife (and renowned former opera singer), a genuine taste of ModiLand.
The two leaders took a stroll down the picturesque Sabarmati riverfront with Madame Peng and sat on a traditional Gujarati swing; it set the stage for difficult bilateral talks.
Similarly, French President Francois Hollande will give a taste of Douce France (Sweet France) when Narendra Modi arrives in Paris.
The Elysee Palace has planned a romantic evening boat ride on the river Seine in Paris, the first stop of Modi's three-nation trip to Europe and Canada which begins on April 9.
Diplomatic sources quoted by The Hindustan Times affirmed: 'A boat ride on the Seine river will not only make the trip memorable but bring the two leaders closer to pushing for a bilateral partnership.'
The strategic partnership signed in 1998 during President Jacques Chirac's visit to India will need a 'push' because a lot of water has flowed under the 37 bridges over the Seine (in Paris only) since then.
Mr Modi is now determined to sell his flagship 'Make in India' scheme soon after it was launched, many foreign investors discovered they were already doing this, without realising it, it was indeed encouraging.
At the time he embarks on his European visit (after France, the prime minister will open the Hanover Fair with German Chancellor Angela Merkel), this should be helpful.
The Defence Deals
Defence will be on everybody's mind during the PM's 3 day-stay in France.
Nine months ago, foreign investors realised that the Modi Sarkar was serious when it notified an increase in Foreign Direct Investment limit to 49 per cent in the defence sector. The move was aimed at boosting India's domestic industry and creating confidence amongst eventual investors.
During the Bangalore Air Show 2015, the prime minister indicated a major change of direction: He wanted to end India's status as the world's number one defence importer; India's objective is to have 70 per cent (from the current 40 per cent) of hardware manufactured domestically by 2020.
'Make in India' will be central to the prime minister's visit to Europe and Canada.
It is difficult to predict what will happen with the Rafale deal, but if it goes through, it will undoubtedly become the 'Mother' of all 'Make in India' projects and herald a number of win-win situations for India and her foreign partners (especially in the Small Scale sectors, as Dassault (and later HAL) requires the services of some 500 small sub-contractors to built the aircraft).
When through, the long-delayed $20 billion deal will be the largest transfer of technology of the decade.
The final cost of the deal still needs to be finalised.
In the meantime, perhaps as an appetiser, the Indian Air Force has got its first two 'refitted' Mirage-2000. An 'acceptance' ceremony for the IAF's Mirage 2000 I/TI was held at Istres, in South France on March 25. Among those present were Arun K Singh, India's ambassador to France, Eric Trappier, chairman and CEO, Dassault Aviation, and Pierre Eric Pommellet, executive vice-president, Thales.
The contract for 'refitting' the IAF's Mirage 2000 was signed in July 2011. The upgrade 'kit,' provided by Thales, comprised new radar, electronic warfare suite and the mission computer.
Of course, the appetiser can't replace the main course (Rafales), but one has to remain patient.
An important decision was recently taken by the Defence Acquisition Council: It approved the Maitri project for the co-development of a Short Range Surface-to-Air Missile (SR-SAM) by the Defence Research and Development Organisation with MBDA, France.
The project has been 'pending' since 2007 and apparently, Delhi will go for the marine version only as the DRDO's Akash missile system satisfies the Indian Army and the Air Force.
The Maitri project, like the Brahmos with Russia, could become a success story for 'Make in India.' The signature for the SR-SAM deal will probably be the main dish of Modi's visit.
One highlight of the trip will be the visit to Airbus Industries in Toulouse (the prime minister will probably be shocked to hear that the Chinese recently bought the Toulouse Blagnac airport). At stake in Toulouse, a $2 billion contract for eight Airbus A-330 MRTT mid-air refuelers, a deal pending for over two years.
The Agenda of the Modi-Hollande Meet
Apart from the defence collaboration, space and civil nuclear cooperation, infrastructure investment, terrorism and other security issues will also be on the table.
In September 2008, India and France signed the first civilian nuclear agreement and consequently, a General Framework Agreement between Areva and the Nuclear Power Corporation of India Limited for the construction of 6 European pressurised reactors at Jaitapur in Maharashtra was inked in December 2010 during President Nicolas Sarkozy's visit to India.
The finalisation of the plans depends on the economic and technical viability of these nuclear plants and as importantly, on an accord about 'nuclear liabilities.'
Erwan Hinault, Chairman and Managing Director of Areva India recently told Business Line. 'Areva is open for technology transfer with the Indian companies for making nuclear components and equipment, which would be used for the Jaitapur project.'
But the price of the electricity produced is a tough issue which may take some time to resolve.
Indo-French Cooperation
French investments in India are progressing rather well with the total investment stock of French companies in India reaching nearly $19 billion.
French embassy sources believe that in the next to 4 to 5 years, the stock of French investments in India will significantly increase with the consolidation and extension of existing investments, and the influx of new French companies in India.
Today, 950 French companies (350 companies and 400 subsidiaries, as well as 200 individual entrepreneurs) are said to be implanted in India; they employ some 300,000 skilled Indian workers.
French embassy sources say these French companies have brought their know-how and technology and many have begun opening research and development centres in India (already employing between 15,000 and 20,000 persons).
Last September, more than 20 French companies attended the launch of the 'Make in India' campaign; to cite a few: Alstom, Dabon-Bongrain, Danone, Faurecia, Lafarge, L'Oreal, Michelin, Renault, Safran, Sanofi Pasteur India, Saint-Gobain and Total.
Renault-Nissan, for example, began production in May 2010 on a 640-acre integrated plant in Chennai, with an investment of 700 million euros. It has now an annual capacity of 480,000 units with a workforce of more than 15,000 employees.
Michelin set up a 290 acre campus, 50 km north of Chennai; it already manufactures a wide range of radial truck/bus tyres.
Last October, Safran, a world leader in aerospace, defence and security, which provides the engine of the Rafale (through its subsidiary SNECMA) signed two agreements with the Indian Institute of Technology-Delhi and the Indian Institute of Science-Bangalore to develop advanced pattern recognition algorithms for complex data and advanced computing platform for the next-generation avionics applications.
Another case is Saint-Gobain's modern manufacturing facility in Rajasthan. Once the plant is fully operational (by mid-2015), Saint-Gobain will have a total installed production capacity of 9,000 tons of glass per day.
The French presence in South India is worth noting; more than 100 enterprises are implanted in the region.
Apart from Renault and Michelin, large French groups like Alstom, Saint-Gobain, Lactalis have set up factories in Chennai. Interestingly, the management of these large companies is progressively transferred to local cadres, while the French personnel continue to focus on quality control and over-all financial management ('Make by Indians'?).
The main focus is presently automobiles and transport (such as Alstom Transport which produces metro bogies) and energy like Sicame (electric material), Schneider, Cryolor (cryogenic tanks), Legrand and Socomec (UPS). Saint-Gobain also has a large factory in Chennai.
In Pondicherry, the focus is more on hospitality, tourism as well as Internet editions and Web design.
Last but perhaps not the least, as an appetiser to Mr Modi's visit to France, India participated in the French Gout de France/Good France project to celebrate French gastronomy worldwide under Three Star Chef Alain Ducasse's supervision. In India, 48 restaurants participated in the culinary feast.
Indian companies in France
One usually forgets that some 100 Indian companies operate in France. In December 2012, according to Banque de France, their investment stock was $565 million.
The main investments in France are in textile, clothing and accessories (25%), software and IT services (13%), aerospace, naval and railway (13%), consulting, engineering and business services (13%), pharmaceuticals and biotechnologies (13%), metalworking (13%).
More than 50% of these investments are located in two regions (Paris-Ile-de-France and Nord-Pas de Calais).
Sintex Industries (chemicals, plastics), Tata Steel, Tata Sons (IT Services) and Deltronix and Motherson Sumi Systems (both automotive industry) are the largest Indian employers in France.
One can hope that after the forthcoming visit, a Gout de l'Inde festival can be organised in France. French people are fond of Indian tastes.
Bon appetit, Mr Modi!
Image: Prime Minister Narendra Modi greets French President Francois Hollande in Brisbane, Australia. Photograph: Press Information Bureau.
ALSO READ: