A string of coordinated bomb blasts within hours rocked Thailand's famous tourist towns, including Phuket, killing four persons and injuring several others just days after the country voted to accept a military-backed Constitution.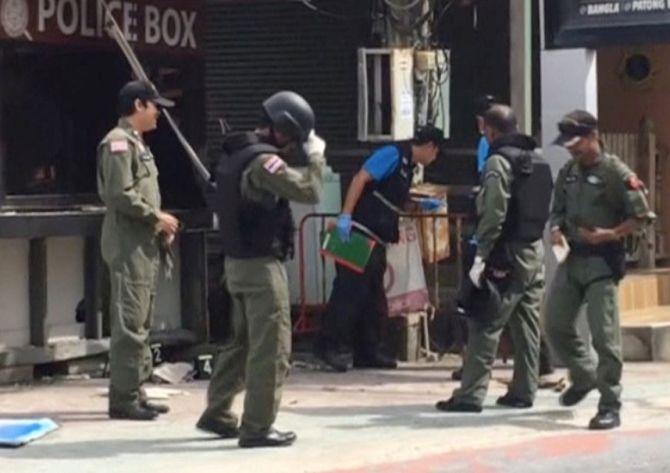 IMAGE:
Officials investigate at the scene of bomb blasts in the tourist beach town of Patong on Phuket. Photograph: Reuters TV
At least 11 bombs, many of them twin blasts, hit five southern provinces in the past 24 hours.
Two bombs went off in the resort of Hua Hin this morning near the clock tower, a city landmark, killing one and injuring three.
"The bombs went off while we were working on site, they were not very far from each other," according to Police Lieutenant Colonel Samoer Yoosumran.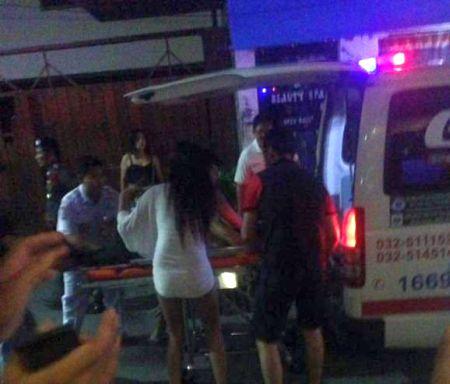 IMAGE:
A screengrab of a video showing emergency services taking the injured to the hospital.
Around 200 meters away, another two bombs exploded late on Thursday as foreign tourists were leaving local bars to go back to their hotels, Yoosumran said.
At least 11 people -- mostly foreign visitors – were injured and a woman who had a food vending cart in front of a bar was killed, according to Yoosumran. No Indian has been reported injured.
Hua Hin is a popular coastal resort, about 90 miles (145 kilometers) southwest of the Thai capital, Bangkok. The city is home to many international hotel chains, including the Marriott, Hilton and Hyatt.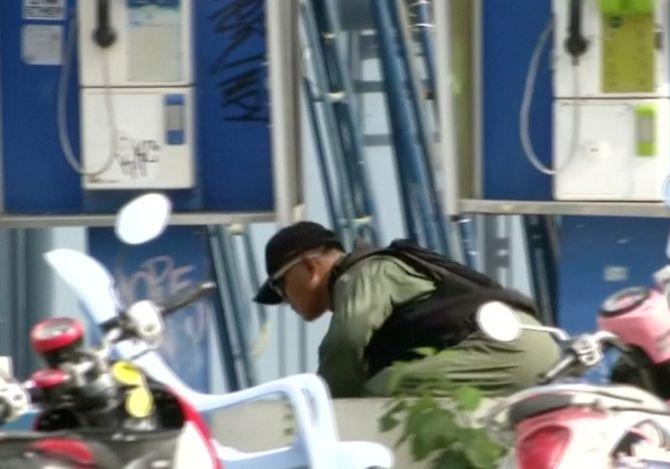 IMAGE: An e
xplosive ordnance disposal official checks at the scene of a bomb blast in Hua Hin, south of Bangkok. Photograph: Reuters TV
It's also home to the KlaiKangwonPalace, the seaside residence of Thailand's King Bhumibol Adulyadej. The palace is located less than about 2 kilometers from the bombing site.
Two more persons were killed in three blasts in Surat Thani and Trang area.
There were reports of bomb explosions in popular resort town of Phuket in Patong beach injuring a few but no fatalities were reported.
A bomb also exploded near the governor's residence in Muang district.
The blasts came as the country celebrates the birthday of Queen Sirikit, a day also observed as Mother's Day in Bangkok.
This is is first time there have been bomb blasts in popular tourist spots like Hua Hin and Phuket.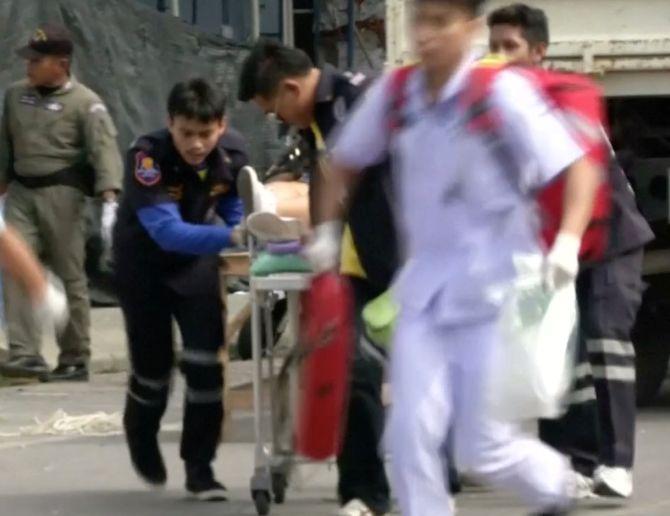 IMAGE: Rescuers and medical officers push an injured person on a gurney at the site of a bomb blast in Hua Hin. Photograph: Reuters TV
No one has claimed responsibility for the blasts and it is not clear if they are connected.
Thai police said that the bombings were acts of local sabotage and not "terrorist" in nature.
"It is still unclear which group is behind the bombings," a police spokesman said and dismissed speculation that Muslim rebels waging a rebellion in Thailand's far south were behind the recent attacks.
The series of blasts come days before the one year anniversary of the Erawan Brahma Shrine bombing, which killed 20 people.
Thailand economy relies on tourism.
Thailand's junta chief said the bombings were an attempt to trigger unrest in a country blighted by a decade-long political crisis.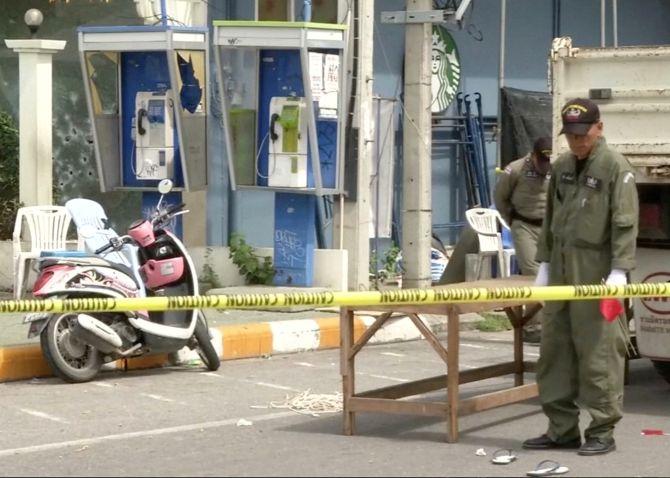 IMAGE: EDO officials said that

the bombings were acts of local sabotage and not "terrorist" in nature

. Photograph: Reuters TV
"The bombs are an attempt to create chaos and confusion," junta chief and Prime Minister Prayut Chan-O-Cha told reporters.
"Why have the bombs occurred as our country is heading towards stability, a better economy and tourism -- and who did it? You have to find out," he said.
He ordered the security to be stepped up in the city areas and tourist destinations
"The PM has issued emergency orders to the relevant agencies in the areas to prevent other bombing incident from happening again, increase the security in the crowd areas, and appoint those who responsible to handle the situation on the emergency event," Government Spokesman Maj-General Sansern Kaewkamnerd said.
Sansern said it was still too early to identify the suspects or the masterminds, but he assured that the officers will bring those who were responsible for these deadly blasts to justice.
However, he asked all the people to keep vigilant and report to the officers, if they find anything suspicious.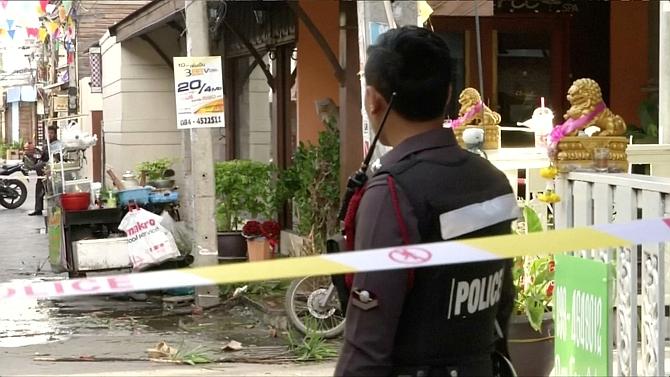 IMAGE: A policeman is seen at the site of one of the blasts, in Hua Hin, south of Bangkok, Thailand. Photograph: Reuters TV
Blasts are common in the three Muslim-majority southernmost provinces of Thailand which rejected the referendum on the new military-backed Constitution passed overwhelmingly in the rest of the country in Sunday's referendum.
The new Constitution give military the final say in the future elected governments.
Meanwhile, a series of suspicious fire broke out at four locations early this morning, but it was not immediately known if they were related to the attacks.
Between 2am and 7am a fire started in a three-story supermarket in Trang province, the Aonang Market in Krabi and a Tesco Lotus hypermarket in Nakhon Sri Thammarat causing some damage.
Junta spokesman Piyapong Klinpan said officials in every province were investigating the incidents to collect evidence and track down the perpetrators.
"We still have no information about them. But at this moment, we believe the attacks are all connected. We don't want to speculate on the motivation, but we believe it's the work of a coordinated movement."
Klinpan added they have no information about any links to ISIS militants, whose attempts to wield influence among the southern Muslim Malay have been rebuffed in the past.