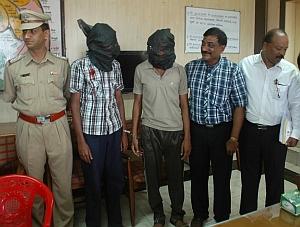 A teenager, who assisted a painter in allegedly murdering his 27-year-old partner and dumping her body in a suitcase at CST railway station on September 26, has been arrested, the police said on Sunday.


The victim's quarrel with her live-in partner (the prime accused) over his 'illicit relationship' with a minor girl living in neighbourhood led to her murder, the railway police claimed.
Amol Karanjule, 19 was arrested last evening after prime accused Pravin Thackeray, 29, was nabbed from Pune earlier in the day. Pravin was in a relationship with the deceased, identified as Roshni, 27, since 2002.
On Saturday morning, Pune railway police nabbed Thackeray and informed the CST railway police here before bringing him to the metropolis, police said.
Explaining the case, Government Railway p1olice Commissioner Prabhat Kumar said, "Thackeray and Roshni, both neighbours in a village in Amaravati district, had eloped in 2002 and settled in Pune. The couple has a son. Their relationship soured a few years ago. However in 2012, Roshni came to know that Thackeray was having an affair with a minor girl who was their neighbour at Hanuman Nagar of Chikhali area."
Another officer said, "Thackeray and the minor girl were found twice in a compromising position by Roshni, who began to have quarrels with him. Fed up with this, Thackeray had assaulted her on September 25 morning. They again had a heated argument on the same day at 5.30 PM when he assaulted her before strangling her. Later, he purchased a bag from  Pimpri-Chinchwad area and with the help of his friend Amol, he bundled the body in it."
The next morning the duo took a train from Pune and planned to hurl the bag from a moving train at Lonawala but due to heavy rush, they could not.
From Lonawala, the duo took Sinhagadh Express train and planned to dump it in Mumbra but in vain. The bag was then brought to the CST station and they had planned to sneak out of the station but due to heavy security, they left it at the station itself."
As Thackeray and Roshni stayed in a rented house in Hanuman Nagar of Chikhali, the land owner's son identified Thackeray in the CCTV footage released in the media, days after the body was found at the station, police said.
Scared, Thackeray shifted to another rented house but his friends also started asking him about his wife in the wake of the CCTV footage showed in the media, police added.
In the meantime, the Pune police received inputs about Thackeray and he was arrested.
In pic: The accused with police officers
Photograph: Sahil Salvi