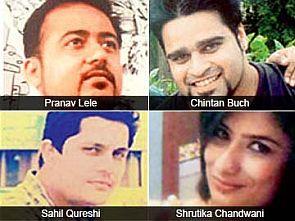 The mysterious disappearance of four Pune-based advertisement professionals finally proved to be a case of accident as rescue workers today fished out their car from Neera river along with the bodies of the three remaining occupants, who had set out on an excursion on November 1.
The search for the missing car had been undertaken by police and National Disaster Response Force rescue workers after body of one of the four occupants of the vehicle -- Chintan Buch (28) -- was recovered on Wednesday, indicating the possibility of the car crashing over a bridge on river Nira along Pune-Banglore highway.
After pulling out the car with the help of crane and recovering bodies of three other victims -- Pranav Lele (29), Sahil Qureshi (28) and Shrutika Chandvani -- police officials said prima facie it appeared to be an accident.
The group was supposed to drop 28-year-old Shrutika at her home at Kolhapur on their way to Karnataka.
The car was last spotted at a toll check post at Khed on the highway.
The relatives of the victims had lodged a missing complaint after their cell phones became unreachable on November 2.
While Chintan's body was recovered from the river water, the other three victims remained in the car as they had their seat belts fastened, police added.
The three bodies extricated from the car were sent for post-mortem.
Autopsy of Chintan, who hailed from Vadodara, confirmed death by drowning.