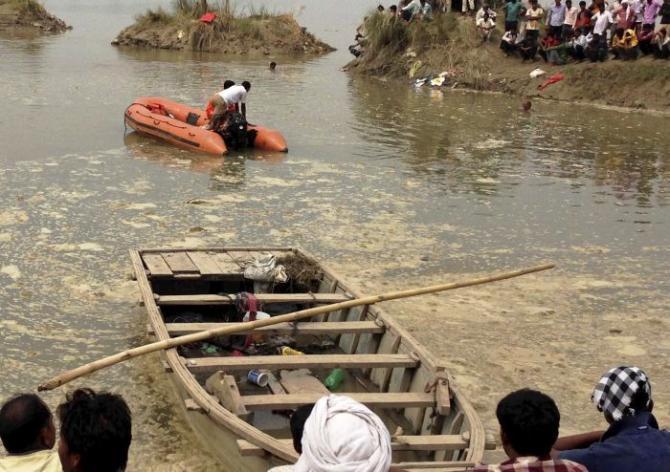 At least 19 people drowned and a few others are missing after an overloaded boat capsized in the Yamuna river in Uttar Pradesh's Baghpat district on Thursday.
The boat was carrying 60 people, District Magistrate Bhawani Singh said.
Initial counts put the death toll at 22, but authorities later revised it down by three.
"The toll stands at 19. This figure has been arrived at on the basis of physical identification. The figure of 22 was based on eyewitness account," the district magistrate clarified.
Fifteen people have been rescued and 20 others swam to the shore, officials said.
Search for the missing persons was on near village Katha, 20 kms from the district headquarters, where the boat sank, the district magistrate said.
"The boat was ferrying passengers more than its capacity. Most of the passengers of the were women. As soon as the boat reached mid-stream, it capsized," Singh said.
The incident triggered anger among local residents, who torched two vehicles, he said, adding that the situation was tense but under control.
Uttar Pradesh Chief Minister Yogi Adityanath expressed grief over the incident.
In a tweet, he issued instructions that the kin of the deceased be given Rs 2 lakh each as relief from the chief minister's relief fund.
The chief minister also directed the district magistrate to immediately provide succour to the affected people, Principal Secretary-Information Awanish Awasthi said.
He said a probe has been ordered into the incident.
IMAGE: Search operation was in progress in the Yamuna River after a country boat, seen in foreground, capsized near Baghpat town in Uttar Pradesh. Photograph: PTI Photo