In a stern message, the Centre on Friday told Manipur government that it can't escape responsibility for the "humanitarian crisis" arising out of the 52-day economic blockade by a Naga group and must work to end it, while making it clear that nobody will be allowed to take political advantage.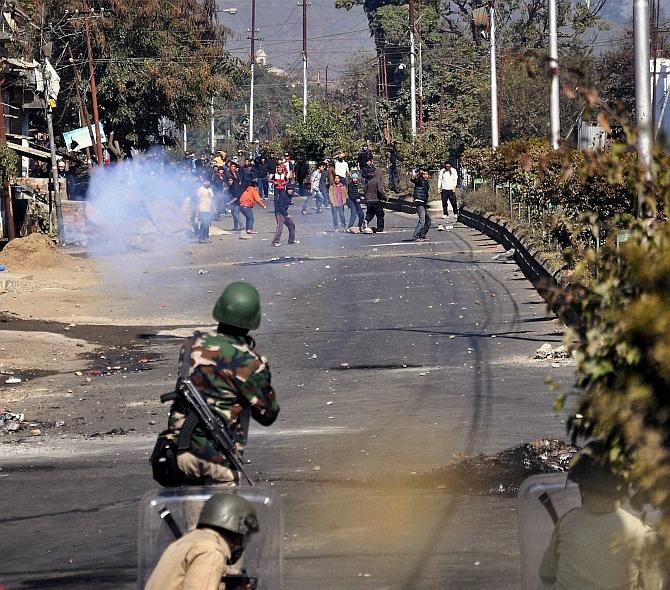 Minister of State for Home Kiren Rijiju, who is on a day-long visit to Congress-ruled Manipur as a Central emissary, said it is completely unacceptable to have such kinds of blockades in which thousands are suffering and both central and Manipur governments will work together to end it.
"The state government has not been able to end the blockade. It must end as soon as possible as law and order is the responsibility of the state government. Nobody will be allowed to take political advantage out of a humanitarian crisis where common people are suffering," he said at a press conference in Imphal.
Rijiju earlier had a detailed meeting with Chief Minister O Ibobi Singh and senior officials of central and state governments on the crisis and how to resolve it.
He dismissed suggestions that central government was late in taking action, saying that it has been asking the state government to clear the blockade since the beginning and offering assistance to it.
"From today onwards, the state government can't escape from its responsibility. Nobody will be allowed to add to the sufferings of the people. Central government is also not shying away from its responsibility," he said.
Opposing creation of seven new districts, the United Naga Council has been staging blockade on the National Highways 2 and 37 connecting the landlocked Manipur since November 1 crippling normal for last 52 days.
The BJP-led central government has been nudging the Congress government in Manipur to ensure smooth flow of traffic on the two highways.
Rijiju said it is the "sovereign duty" of both central and Manipur governments to ensure that law and order is maintained and people don't have to suffer due to economic blockade by anyone or a group.
"When there is an issue of common people or sovereign duty, there should be no political difference, there is no political colour. Central and state governments must work together," he said.
The minister said since law and order is the responsibility of the state government, it has to act and clear the blockade and whatever help is required, the central government will provide.
Assembly elections in the state are due early next year.
Rijiju said 15,000 paramilitary personnel have already placed under the disposal of the Manipur government while 700 more are on their way.
"The state government must deploy these forces wherever required and clear the roads. The forces are under the command of the state government," he said.
Asked the possibility of UNC being backed by NSCN-IM, Rijiju said no group will be allowed to break ground rules and will be brought to task if anyone tries to do so.
The landlocked state has been experiencing severe hardship in supply of essential items since November 1 after United Naga Council imposed an indefinite economic blockade on the two national highways that serve as lifeline for the state.