The family of Asrat Ansari, one of the main suspects in the twin blasts in Mumbai on August 25, is shocked. They just cannot believe the police claim that he was involved in the acts of terror.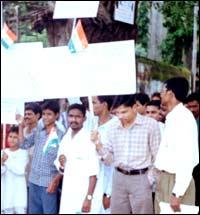 "Look at this picture [edited, with Ansari on the right]," says Mohammad Anjum Ansari. "My brother is holding our national flag on Independence Day! We were celebrating Independence Day 15 days ago. And now the police say he is involved in the twin bomb blasts! This is not true. My brother is innocent."
It is not just the immediate family that finds it hard to believe that Ansari could be a terrorist. Even neighbours and co-workers think the police have made a mistake.
Says Mohammad Azharuddin, a zari (gold embroidery) worker and Ansari's colleague, "Asrat was sitting in this very room on Monday when the blasts took place. He was here from 11am to 1pm. I think the police is mistaken."
Agrees Sheikh Mehboob, another co-worker, "On Monday, we didn't have much work and I remember Asrat was sitting here and reading the newspaper. He only left this place after 1 pm for namaaz. I cannot believe he is involved."
Junaid Nagar at Juhu Gully, a locality in the northwestern Mumbai suburb of Andheri, was unknown to many till the police said Asrat, who lived there, was a prime suspect. Residents of Juhu Gully are shocked that so many people want to know about this area and are trying to locate the Ansaris.
"I know them very well," says Budhan Khan. "Asrat is my friend of many years. He was religious and never fought with anyone in our locality. There has never been a case against him with the police. I am shocked to hear that he was involved in the blasts. I am sure the police have caught the wrong man."
The Ansari family had lodged a 'missing' complaint at the D N Nagar police station after Asrat failed to return for two days after he left home last Saturday morning. Flashing the complaint number, Anjum Ansari said, "We were all worried as he didn't come home on Saturday night. When he didn't come back till 4pm on Sunday I went and lodged a complaint at the D N Nagar police station."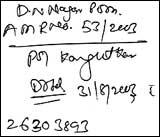 Asked how they learnt about Asrat's alleged involvement in the blast, he said, "The police has not informed us yet about his involvement. It is only the media that has informed us about his arrest."
Ansari said the least the police could have done, if indeed Asrat had been booked under the Prevention of Terrorism Act, was to inform the family. "We are respectable citizens of this country," he said, "and it was my duty to report to the police that my brother was missing. If they say he is involved in the twin blasts, they should inform us. They should tell us from where he was arrested and what crime he has committed."
Responding to the police claim that Asrat Ansari was in touch with Sayyed Mohammed Hanif, main conspirator in the blast, and his friend Naseer, who allegedly acted as a conduit, Anjum said, "We have had a telephone for the last seven years. No one with these names called for Asrat in these seven years. And he never carried a mobile phone. If these people were involved with Asrat, they would surely have called at our home number."
The police have also claimed that Asrat had gone to Surat and was there during the Gujarat riots of 2002. When he came back, he had revenge on his mind and so he got in touch with Naseer, who, along with Hanif, conducted the entire operation at Zaveri Bazaar and the Gateway of India.
At this point, Kamrunnissa, Asrat's mother, interrupted. "My son was in Surat working at a zari shop owned by Kamlesh," she said. "I'll give you his telephone number. You call and ask him how my son's behaviour was. They were nice to my son, but I told him to come back as I was concerned that the riots could spread to Surat."
Kamrunnissa continued, "The police have also said that he [Asrat] was in touch with people in Dubai. How could he be in touch with them? He has never been out of the country. They are blaming my son for no reason."
Photographs: Jewella C Miranda