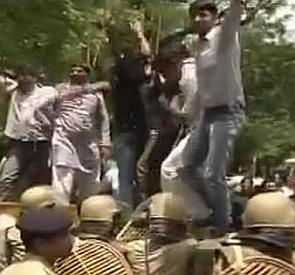 Scores of Bharatiya Janata Party's youth wing activists on Sunday clashed with the police when they were stopped from marching towards Prime Minister Manmohan Singh's residence to demand his resignation and proper probe into scams and corruption allegations against the United Progressive Alliance government.
Holding placards and shouting slogans, the Yuva Morcha activists led by its president Anurag Thakur started their march from Aurangzeb Road, but were prevented from moving further near Tughlaq Road police station around 12:30 pm.
The activists clashed with police and broke one barricade to march ahead, but the police resorted to water canon. The protesters, including Thakur and Delhi BJP chief Vijay Goel, were detained and taken to a nearby police station.
"With this demonstration, we demand that the PM ought to speak up and also demand proper investigation into the scams and cases of corruption against Congress and its ministers coming out in the news on a daily basis," Thakur told mediapersons.
Anticipating the protest, the Race Course Road Metro station near the prime minister's residence was closed for public on Sunday morning.
Race Course Metro station has been closed for public from 11 am till further directions as per police advice, a Metro official said.