Even with the elevation of Nirmala Sitharaman as defence minister, the BJP still needs to redress the gender imbalance and fill the 33 per cent quota in posts, reports Radhika Ramaseshan.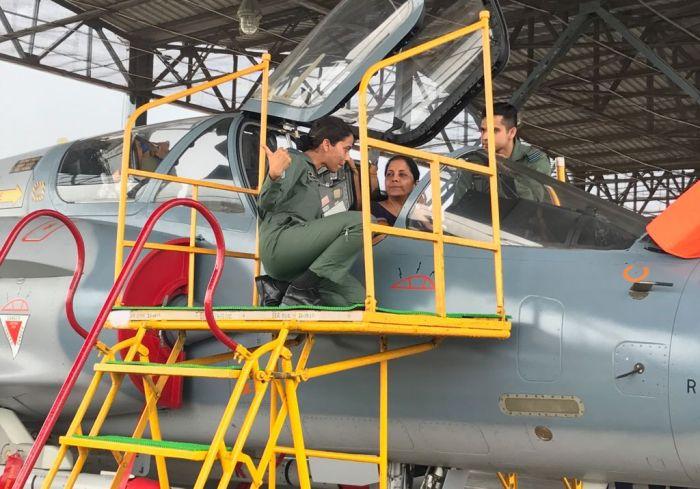 IMAGE: Defence Minister Nirmala Sitharaman on board a Mirage fighter during her visit to the Air Force Station in Gwalior on September 14, 2017. Photograph: @nsitharaman/Twitter
Women's empowerment is passé. In the Bharatiya Janata Part, the new catchline is 'gender equality'.
Intoned like a mantra, it gained currency with party members after Nirmala Sitharaman's elevation as defence minister and her entry into the government's elite cabinet committee on security.
The BJP's bandying about of the phrase is because it wants to dispel a perception that its women leaders reach the top with male patronage and such appointments are about 'tokenism'.
Its Mumbai MP, Poonam Mahajan, who helms the party's youth wing, a nursery for developing leaders, said, "I don't like people saying we have the first fulltime woman defence minister. I'd rather say we have a strong raksha mantri."
Shaina N C, the Mumbai BJP treasurer and a spokesperson, explains the political underpinning in the appointment as, "She will call the shots in her own right because if symbolism and tokenism were the considerations, she might have got tourism instead of commerce and now defence."
Vani Tripathi, a former BJP functionary and a member of the Central Board of Film Certification, elaborated on why 'patronage' did not work in the party. "The BJP's different from the Congress in that dynasty, associated with the Congress, makes its gender equations lopsided. Indira Gandhi was a powerful prime minister but she was the daughter of another powerful PM while Sonia Gandhi derived power from being Indira's daughter-in-law.
"For some time, Nirmala was on the BJP's periphery but she caught the cadre's attention. We have many more women working in the polling booths and the districts. It's a bottom-up approach, where a particular woman might take 10 years to rise in states or nationally. Her growth is organic, not superimposed."
Rajya Sabha member and party vice-president Vinay Sahasrabuddhe said he got insights into the "nuanced" gender question back in 1995. That was when the Rambhau Mhalgi Prabodhini, a BJP-aligned training and research academy, conducted a study on the first batch of women elected to Maharashtra's municipalities from reserved seats.
"It was an eye-opener," he says. "The study coined a new term, state-sponsored feminism. Our party councillors objected to the male members calling them bhabhi (sister-in-law) and insisted that they should be addressed formally. They discovered their identities. There was a suggestion that men should be compulsorily put in the women and child welfare departments of the corporations, instead of women."
Even without "state-sponsored feminism" or an institutional prod, the BJP's women have displayed grit, especially while confronting male leaders. Although a general secretary described the late Vijaya Raje Scindia as their "tallest" woman leader, not many present-day women regarded her as a role model.
The Rajmata's only 'contribution' in the gender sphere was discovering and grooming Uma Bharti into a feisty leader. Otherwise, she merged with the Hindutva mainstream, participated in the 'movement' to bring down the Babri mosque and supported the practice of sati.
Uma, Sushma Swaraj, Smriti Irani, Vasundhara Raje and Anandiben Patel represent a quintet that has taken on the BJP's high-and-mighty ones at crucial junctures and mostly got away.
In August 1999, at a national executive session at Nagpur, Swaraj, out on a limb, retaliated against then PM Atal Bihari Vajpayee and L K Advani, the home minister and also her mentor. In a packed sitting, the mentee blasted them for their Kashmir and fiscal policies, and went into a sulk, ostensibly resigned to a fate of near-oblivion. Swaraj was then the BJP's best known female face. Realising her cachet was considerable, Advani persuaded Vajpayee to induct her in his Cabinet in the next shuffle.
Sadhvi Uma stared her political 'guru' Advani in the eye in November 2004, at an official meeting open to television. Called to discuss the 'charges' against Uma, she demanded to know from Advani why he'd picked on her and "shielded" her rivals, before walking out. Uma was expelled but knowing the political cost of banishing a person with a caste and popular pull, the BJP brought her back. She used the same attributes to repulse efforts to offload her in the latest Cabinet revamp.
Smriti's public diatribe against Narendra Modi when he was the Gujarat chief minister, their reconciliation and her rise in his regime are the stuff of BJP lore.
Anandiben has not waited out her exit as the CM stoically. She rebuffed high-level attempts to prise her out of Gandhinagar with a gubernatorial bait and indicated she will contest the next state assembly election.
'Gender equality' might become an encumbrance. Which is why the brass is in no hurry to redress the gender imbalance in the BJP organisation and fill the 33 per cent quota in posts, decreed by the party constitution.
The word from a top source is, "When we speak of reservations, we must treat the party and government holistically. There are enough and more women in the government and so the shortfall in the party doesn't matter. The ministers are party workers and not outsiders."