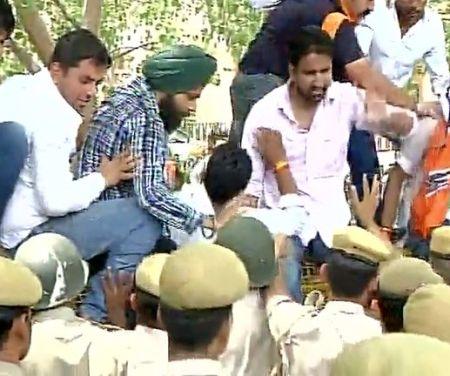 Bharatiya Janata Party workers on Sunday staged a demonstration outside the Communist Party of India-Marxist headquarters in New Delhi, broke police barriers and damaged their signboard in protest against the murder of a party worker allegedly by supporters of the Left party during a poll victory rally in Kerala.
The BJP has been targeting the Left over the alleged attacks on its workers in Kerala in the run up to the polls.
Several police teams were deployed and a four-tier security arrangement was made around the CPI-M office in New Delhi's Gole Market area.
CPI-M workers had also come out of the building to confront the protesters and a minor scuffle broke out when a group of BJP workers broke police barriers and damaged the signboard at the CPI-M headquarters.
The groups were separated by the police and no injuries were reported, police maintained.
"Around 600 people have been detained under provisions of law and the situation is under control," DCP (New Delhi) Jatin Narwal said.
Holding that the protest was peaceful, Delhi BJP spokesman Praveen Kapoor said, "Police detained our leaders and workers but not the CPI-M workers who resorted to violence. Hundreds of party workers, including Delhi in-charge Shyam Jaju and president (Satish Upadhyay) have been detained."
CPI-M leader Prakash Karat said, "No one was injured in the attack. But the police personnel deployed there did not prevent them from coming up to the office."
A police complaint has been lodged in connection with the incident, a CPI-M worker said.
On Thursday, BJP worker Pramod (38) had sustained head injuries after he was allegedly hit by a brick following a clash during a victory rally by CPI-M workers at Idavilangu in Kerala. He died the next day.
BJP chief Amit Shah had on Saturday accused the Left Front of "violating" the people's mandate.
The BJP had said it will not sit quiet if the "cycle of violence" continues in the state as it claimed that it has emerged as a powerful alternative voice to the two main fronts led by the CPI-M and the Congress.
Kapoor said, "The protest is against the violence in Kerala and the killing of our party worker there."
The protesters started marching in groups from the Delhi BJP office in Pandit Pant Marg and gathered outside the outer-most barricading near the Left party's office.