Rajasthan's teachers plan to teach Vasundhara Raje a lesson.
Archis Mohan reports.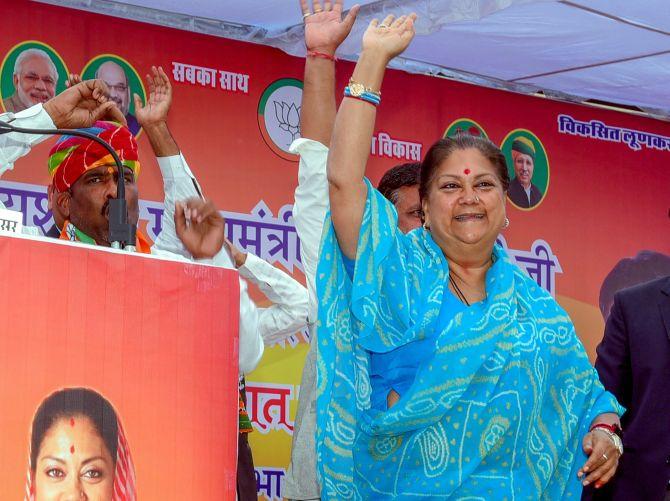 Rajkumar Chaudhary, a government primary school teacher in the Jhunjhunu district of Rajasthan, says he is unabashed about asking parents of his students to vote out the Vasundhara Raje government.
Lalaram Meena, headmaster of a secondary school in Tonk district, says the Raje government has failed to deliver development in the state.
Rajendra Singh, a basketball coach at a college in Bikaner district, admits to lately taking to frequent political discussions with his students.
Singh, who claims to be a committed Bharatiya Janata Party supporter, says he usually tells his students to ask the 'right questions' to politicians, particularly on what they did for the youth or what happened to the Raje government's promise of creating 1.5 million jobs in Rajasthan.
Voting in Rajasthan is on December 7. As campaigning for the assembly polls in the state reaches its final few laps, there is an all-pervasive mood for change.
Rajasthan has never returned a government to power since 1993, and this election could be no different.
However, the level of disenchantment is intriguing since one gets to meet enough beneficiaries of central and state government schemes, particularly the Raje government's Bhamashah Scheme that has ensured transfer of financial and health care benefits to women recipients.
Several farmers have also benefitted from the waiver of farm loans taken from cooperative banks.
Government employees, particularly teachers, have played a key role in shaping the political discourse in the state in the last couple of months. Government employees have struck work frequently in the last year of the BJP government's term.
According to one estimate, as many as 36 strikes and protests have taken place in the state in the last couple of years, of which most were by government employees. These were by Asha workers, road transport employees, government secretarial staff, and teachers.
In September, an estimated 100,000 government employees of 112 government departments were on strike. They ended their fortnight-long strike once the Election Commission announced the model code of conduct on October 7, but with the resolve of opposing the BJP in the coming election.
Rajkumar, the teacher in Jhunjhunu, was among the nearly 60,000 government teachers who went on strike.
Teachers, he says, felt slighted at the chief minister's unwillingness to give them a hearing.
"As teachers, we are more adept at putting forth our opinions logically, and the Raje-led BJP will pay the price for ignoring us," Rajkumar, a Rajput and a BJP supporter, says.
Teachers complained of long hours, better emoluments, arbitrary transfers to all parts of the state far away from their original residence, and failure of the government to fill vacant posts.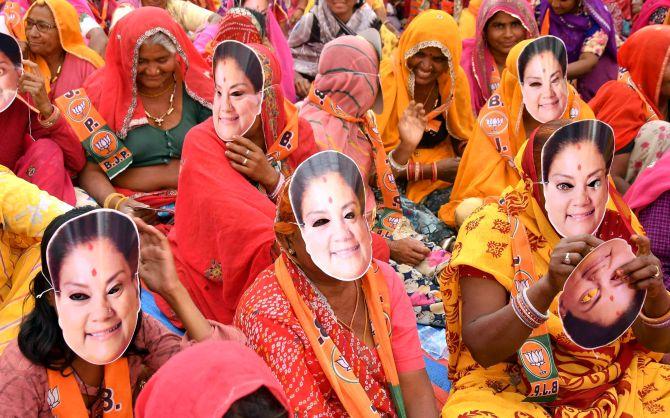 The Raje government moved to fill 28,000 vacancies in August, but it was considered too little too late. It also instructed teachers to attend the Teachers Day celebrations in Jaipur on September 5 and threatened action on those who failed to comply.
Nearly 17,000 state transport employees struck work for two days in September. Over 4,700 buses across the state stayed put in bus depots as contractual workers demanded regularisation, and others asked for implementation of the Seventh Pay Commission recommendations and better retirement benefits.
Singh, the basketball coach, has grudging admiration for Raje for not buckling under pressure. "She is a tough person and does not take kindly to being blackmailed. But the perception of her being arrogant deepened when she didn't meet us," he says.
BJP leaders from the CM's camp defend her. "There was a reason that these strikes took place now. Government employees convinced themselves that they would succeed in bending the CM with elections barely a couple of months away," a BJP strategist says, pointing out how succumbing to the demands of the employees would have cost the state exchequer at least $200 billion.
The sizeable teaching community of the state is an obstacle BJP strategists are struggling to overcome.
"We are asking people not to get swayed by religious and divisive appeals, but demand jobs and development," Meena, the headmaster in Tonk, says.