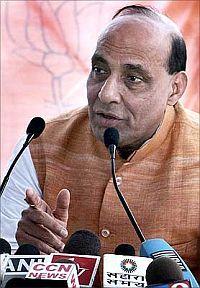 Reaching out to Muslims ahead of the Lok Sabha elections, the Bharatiya Janata Party asked the community to give it a chance and not go by the "propaganda" spread by Congress while promising to stand for equality and apologise for any "mistake" or shortcoming in the past.
"Please note that whenever, wherever if there has been any mistake and shortcoming on our part, I assure you that we will apologise to you by bowing our heads," said BJP chief Rajnath Singh while addressing a gathering of Muslims in New Delhi on Tuesday.
Singh said BJP was not against Muslims and the community should not go by the propaganda against it. He asked them to vote for BJP this time for the sake of the nation.
"Try us once. We don't come up to your expectations, don't look at us ever again," he said at the event "Modi for PM - Mission 272+ -- role of Muslims" in the national capital.
The BJP chief asked the Muslim community not to vote for electing a government but for a strong nation where brotherhood and humanity shall prevail.
Talking about the 2002 Gujarat riots, he said Congress engineered such a propaganda as if Modi had ordered the massacre of all Muslims at that time and was now not even ready to accept the clean chit given to him by a court.
"Congress is playing vote bank politics to defame Modi and BJP... Try and understand this, they want Muslims to move away from BJP," he said, adding that, "Now, the court has also given him a clean chit, what else is left against him."
The BJP chief appealed to the Muslims community to vote for BJP this time and help it form a government to provide a strong India and to ensure respect for humanity and not allow any kind of hatred.
"Unko dekha baar baar, kamse kam humko dekho ek baar (You have seen them so many times, atleast try us once)," he said.
The BJP chief said the Indian Constitution does not provide for reservation on religious lines. "Anyone who is poor should be given reservation, be it Muslims, Christians..., and not on religios basis. Why divide people on the basis of religion. There should be equality."
BJP leader Arun Jaitley called upon minorities to support BJP to help make India free of all communal riots and provide a regime of security, equality and economic growth to ensure its progress.
He appealed for shunning vote bank politics so that all can be treated as equals.
Attacking Congress, Singh said its policy has been of divide and rule. The BJP Chief also accused the Congress of accepting the division of the nation on religious lines which Muslim leaders like Maulana Azad never accepted.
"Those who have accepted the division of the country on the basis of religion are communal," he said hitting out at Congress.
He also accused Congress of indulging in riots and cited Rajiv Gandhi's words that "When a big tree falls, the earth shakes" after Indira Gandhi's assassination.
Image: BJP president Rajnath Singh