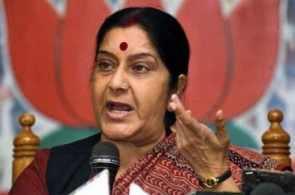 Reflecting escalation of confrontation with the government, the Bharatiya Janata Party on Tuesday decided to boycott meetings to be called by Parliamentary Affairs Minister Kamal Nath or Lok Sabha Speaker Meira Kumar as it accused Congress President Sonia Gandhi of not allowing the opposition to air their views in Parliament.
Leader of the Opposition in the Lok Sabha Sushma Swaraj said there is a "situation of total breakdown" and the government is "responsible" for it.
Addressing a press conference, she alleged she was prevented from speaking in the House on Tuesday morning because Gandhi had "instigated" the Congress members to create disturbances. She said the decision was arrived at the business advisory committee that she would speak on the issue of coal blocks allocation and the BJP would allow passage of the Finance Bill on Tuesday to prevent it from lapsing.
"Whatever is decided in the BAC is not implemented, but whatever Sonia Gandhi decides takes place," Swaraj said. She said when she was prevented from speaking; even Speaker Meira Kumar did not give "protection" to her.
"So, we have decided that we will not attend any meeting to be convened by the Speaker or the parliamentary affairs minister," the BJP leader said, adding the "decision has been taken because of government's attitude in the Lok Sabha."
Replying to questions, she said, "The countdown for this government has begun." At the same time, she said the BJP will not move no-confidence motion against the government.
On the logjam in Parliament for days, she said the BJP wanted at least the resignation by Law Minister Ashwani Kumar in connection with the Central Bureau of Investigation's contention that its status report on coal block allocation was vetted by him.

Image: Leader of the Opposition in the Lok Sabha Sushma Swaraj