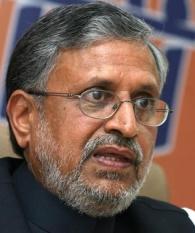 Accusing the Janata Dal-United of betrayal, Bihar Bharatiya Janata Party on Sunday said it had walked out of National Democratic Alliance despite repeated assurances that it would be consulted whenever the prime ministerial candidate is chosen.
Bihar Deputy Chief Minister Sushil Kumar Modi, who was considered close to Chief Minister Nitish Kumar and had been criticised for this by BJP leaders from Bihar, lashed out at the estranged ally, saying the JD-U has declared BJP secular or communal depending on its convenience. He also took a dig at the JD-U for its reservations on Narendra Modi saying, "Some people are unhappy that a person who does not belong to a dynasty, who is the son of a poor father who sold tea is rising."
"When Nitish Kumar met BJP President Rajnath Singh and Arun Jaitley he was assured that whenever a decision on the prime ministerial candidate is chosen, he will be consulted. Even when Narendra Modi was anointed as election campaign committee head, the JD-U said it is an internal matter of BJP. What happened in the last four days to change this," Sushil Modi asked.
He announced that BJP will organise a Bihar bandh on June 18 to protest against the "betrayal" of the JD-U. He said the JD-U has betrayed the people of Bihar as they had voted for the NDA in the state.
Referring to Gujarat Chief Minister Narendra Modi, the BJP leader said the person who is being called communal by the JD-U today will become secular after the 2014 election results.
Sushil Modi said Nitish Kumar should have stepped down from the post of chief minister as he was chosen for the post by the NDA and not just the JD-U.
The BJP has always followed "coalition dharma", he maintained, adding that in the past there were several occasions when the alliance could have broken but BJP made all efforts to ensure its continuance.
"The break-up of NDA is sad and unfortunate," Leader of the Opposition in Lok Sabha Sushma Swaraj said on micro-blogging site Twitter.
BJP Vice President Mukhtar Abbas Naqvi termed it as "very unfortunate" but said, "This is not the end of the world. More allies will come to NDA."
Recalling a famous Hindi song, Naqvi said, "A friend has done a deed which even an enemy would not do." However, the BJP leader said that the elevation of Modi -- the reason for the JD-U to walk out of the NDA
-- was an irreversible decision and there would not have been any backtracking on the issue.
"After Gujarat chief minister's appointment as head of the election campaign committee, our party president Rajnath Singh had clarified to the JD-U several times that it will not be changed," Naqvi said.
The BJP leader maintained that the JD-U should understand that Modi is the rising star. "The writing is on the wall. People will not forgive those who do not see it," Naqvi said.

Image: Bihar Deputy Chief Minister Sushil Kumar Modi