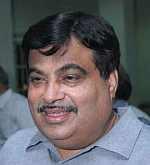 Some senior Bharatiya Janata Party leaders conspired together to deny second consecutive term as party president to Nitin Gadkari and were also instrumental in supplying "material" to media against him, claimed Rashtriya Swayamsevak Sangh ideologue M G Vaidya.
"When BJP amended its constitution to facilitate extending second term to incumbent president Gadkari, a section of party leaders did not like it. But they did not oppose it openly and since then started working against giving second term to Gadkari," Vaidya wrote in his blog.
"Gadkari would have scored 70 per cent votes had he contested polls for the second term," Vaidya said.
After allegations against Gadkari regarding layered investments into shell companies linked to Purti Group found way in the media, senior party leaders Ram Jethmalani and his son Mahesh went public opposing his second term citing propriety.
"Later, former union ministers Yashwant Sinha and actor-turned-politician Shatraughan Sinha also asked Gadkari to demit the office and face probe into allegations," he wrote.
Income tax sleuths had raided 11 locations across Mumbai, just a day before BJP's presidential poll, to verify the existence of the alleged shell companies that are linked to Purti Group.
Rajnath Singh succeeded Gadkari after the latter tendered his resignation.