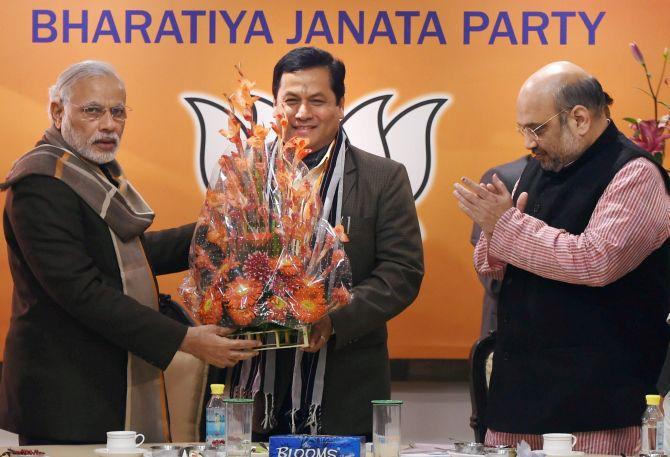 Bharatiya Janata Party on Thursday declared Union Minister Sarbananda Sonowal its chief ministerial candidate for the Assam assembly polls, making a departure from its usual practice of not naming a leader for state elections.
The BJP parliamentary board made the decision in an hour-long meeting attended among others by Prime Minister Narendra Modi and party chief Amit Shah, its general secretary J P Nadda told reporters.
"The people of Assam know Sarbananda Sonowal as a 'national hero'. The parliamentary board has decided that the party will fight the Assam polls in his leadership. BJP is going to form its government in Assam," Nadda, accompanied by party's national secretary Shrikant Sharma, said.
The decision reflects a strategic shift in the party's approach to contesting state assembly elections after ignoring state leadership and excessive focus on central leaders was blamed by many for its debacle in Bihar polls.
Barring the Delhi assembly polls, during which it had inducted Kiran Bedi into the party at the last minute and made her the chief ministerial candidate, BJP has not named a leader for state elections and instead sought votes in Modi's name after he emerged as its preeminent leader and Shah took over as its president.
Asked if the party will name chief ministerial candidates for other poll-bound states as well, Nadda said the issue was deliberated upon and a decision will be taken later.
Sonowal, 53, currently holds independent charge of the sports and youth affairs ministry. Sonowal was All Assam Students Union president and Asom Gana Parishad leader before joining BJP in 2011. He headed the party's Assam unit before he was made a Minister in the Narendra Modi government.
He was appointed Assam BJP chief in November.
Among the five states going to polls in a few months, Assam offers the best hope to the saffron outfit after it emerged as the single largest party there during the Lok Sabha elections in 2014.
In the meeting, the board led by Modi felicitated Shah following his election as the party president for a fresh term with the prime minister hoping that he will lead it to more successes in the future.
Image: Prime Minister Narendra Modi greets party leader Sarbananda Sonowal after he was named as BJPs Assam Chief Ministerial candidate at the partys parliamentary board meeting in New Delhi. Photograph: Manvender Vashist/PTI