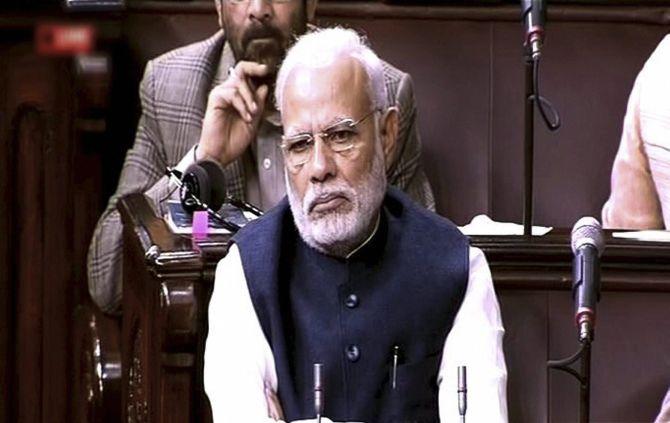 The Opposition in Rajya Sabha on Monday took the government to task for ignoring the woes of the common man hit hard by demonetisation and attacked Bharatiya Janata Party members for only painting a 'rosy picture' to the prime minister as they were 'scared'.
Congress leader Rajeev Shukla, participating in a debate on the Motion of Thanks for President's address, said it was a 'disappointment' as there was nothing new in it.
He said every speaker from the ruling BJP was 'only painting a rosy' picture to Prime Minister Narendra Modi about the demonetisation move as 'everyone is scared'.
While speaker after speaker from the government side have spoken about how people were happy with the note ban, 'the same leaders when they met privately over a cup of tea in Parliament's Central Hall spoke about the problems being faced by the people'.
"I can understand when people are scared of losing their jobs. But it is the responsibility of the MPs to tell the prime minister the truth," he said.
Maintaining that small traders, farmers and unorganised sector workers have been hit very hard, he pointed out that despite there being no religious festival, trains to Bihar, Odisha and West Bengal were crowded as people were going back after losing their jobs in cities and rural areas of North India.
Noting that the manufacturing sector has also been hit hard, he said alluded to 'inspector raj' and said 'on top of it, the government has ensured that one inspector is put behind each manufacturer. If they (manufacturers) are running away, how will you provide jobs?'
Observing that the President's address had referred to the cross-border surgical strike, he said three such operations were carried out during the Congress-led rule which were spoken about only by a former Army chief and the Foreign Office.
Given the level of publicity, "I thought it was like they had reached Islamabad," Shukla said
"Even when Indira Gandhi fought the 1971 war, there was no such publicity," he said, adding that the Modi government was interested only in publicity and does it so much that it becomes over-publicity.
Shukla's contentions received support from other Opposition members, including Sanjay Seth (Samajwadi Party) and Sharad Yadav (Janata Dal-United).
Shukla also said the government has systematically downgraded the relevance of various institutions like the Planning Commission and 'now nobody knows what happens where'.
The Congress member also criticised the government's foreign policy saying relations have deteriorated with all neighbouring countries and the 'hugs' between Modi and the Pakistan prime minister also did not help.
He spoke of the need for accountability in judiciary, an issue which was also supported by JD-U's Sharad Yadav, who went a step further and asked why there was no reservation in the Supreme Court.
Shukla also referred to Indo-US relations saying the new American President has come out with rules which will affect Indian companies and asked the Modi government to take it up with Washington.
He was supported by SP leader Sanjay Seth who also spoke on the same issue and highlighted how the farmers and common man have been affected by demonetisation.
Yadav spoke of the affects of demonetisation on the poor people and said land of tribals was being taken away and the government remained unresponsive.
"The government has many schemes but not everything reaches the people," he said and cited figures on representation of SCs, STs and OBCs in institutions and universities. He said social disparity was the root cause of economic disparity.
Yadav also spoke on the Kashmir issue and said the government should talk to various sections to ensure that the state does not face problems again.
Communist Party of India-Marxist leader Sitaram Yechury attacked the government on a variety of issues, including demonetisation and religious intolerance and said the President's address had failed to mention a single word on over 100 lives lost during the demonestisation move.
"Normally the Honourable President is very fond of using three Ds to describe parliament democracy -- debate, discussion and decision, and not disruption. That is his fond philosophy," Yechury said.
However, 'unfortunately, the irony is that he read out a speech which also has three Ds. These three Ds are not what he is fond of, but are Deception, Disruption and Diversion which are leading up to a diabolic agenda which is being unfolded," the CPI-M general secretary said.
Invoking Guru Ramanuja and Sikh Guru Gobind Singh, Yechury attacked the government for building an atmosphere of fear and religious intolerance in the country.
"If you do not believe in my god, you are not part of India. That is what has been happening in the country," he said.
Citing Gobind Singh, he said the Guru had introduced the kirpan (knife) to protect the poor and the weak from all kinds of religious and casteist oppression.
"Now what do we have in our country where the kirpan was meant to defend the poor and oppressed from religious persecution," Yechury asked, adding that in the past year, there have been greater atrocities against minorities with official patronage.
He called the demonetisation drive of the government as the 'biggest disruption' which has affected the normal existence of the vast majority of people and their livelihood.
"None of the four points which the PM listed for undertaking the initiative have been achieved and, on the contrary, many things have been endorsed and legalised," he said.
"There is more money than that was demonetised that has come to your banks. Now what does that mean? All your black money has now been converted into white, all the counterfeit currency has been legalised," Yechury said.
Attacking the note ban move, he said the prime minister's assertion that it will impact terror funding has not yielded any result.
"After the surgical strike.. the number of our jawans who have laid down their lives in terrorist attacks has doubled in these three months as compared to three months earlier," he said.
In the President's address, there was no mention of over 100 people dying in queues while trying to take out their own money from banks during demonetisation.
"All these deaths of innocent people have been put aside as a sacrifice for a big thing that was being achieved," Yechury said.
Explaining the impact on the overall economy of the country, he said around 45 per cent of the country's gross domestic product is controlled by informal economy, which also employs around 80 per cent of the people and is almost 100 per cent cash-based.
"All that has been disrupted. Crores of Indians have been put to unnecessary disruption as a result of this," he said, adding that the move has led to economic disruption.
Giving examples, he said two-wheeler sales in the country have dropped by as much as 35 per cent while there has been a drop in orders for Banarasi sarees by half in the prime minister's constituency of Varanasi.
Opposing payments through digital medium, Yechury asked 'what are you (government) doing? Giving a profit bonanza to these companies, bulk of which are foreign companies?'
'Globally, there are three major companies who handle credit and debit cards, that is Visa, Mastercard and American Express, and if these are going to benefit from this, what is the meaning' of demonetisation.
In addition, India has been reduced to a subordinate strategic ally of the US and that is when Donald Trump has become the US President, the CPI-M leader said.
"Five lakh youths are working in the US on H-1B visas. There is complete sense of insecurity and not a single word from the government that we will protect you," he aid.
"What signal are you giving to the world that you are a junior partner of US in terms of containment and their policy of hegemony.. is that in our country's interest," he asked.
Commenting on public sector lenders, he said that banks have become vulnerable due to rising bad loans and added that those who 'looted the banks have gone scot-free' and 'what do you do? You get after poor farmer, confiscate his property, his cattle. For the big fish, there is no way of confiscating their properties.'
Attacking Modi for terming SP, Congress, Akhilesh Yadav and Mayawati as SCAM, he said: "SCAM is battle against the Scheduled Castes and the minorities. This is what the PM and his government are doing in the country."
Congress leader Ahmed Patel charged the government with indulging in vendetta politics and acting with a 'revengeful mindset towards the Opposition'.
He said the demonetisation decision was taken 'without thinking of the consequences'.
Patel also alleged that the Government had 'misused' probe agencies in the last three years.
"The way appointments are being made, the heads of agencies are getting extension and being told that they will get promotion. The agency heads visit the houses of extra-constitutional authority and procure orders. What can be more shameful than this? You will know when you take out call records," Patel said.
Referring to the issue of simultaneous holding of state assemblies and Lok Sabha elections, he said 'any decision should be taken after evolving consensus on the matter'.
However, he concluded by saying that he formally supports the address given by the President.
Vishambar Prasad Nishad of the Samajwadi Party said the President's address 'was full of false promises and farmers are feeling cheated'.
He asserted that post demonetisation, the state of agriculture has worsened and that farmers were unable to sell the produce and not even able to get the input cost.
V Vijayaasai Reddy (Yuvajana Shramika Rythu Congress Party) said 'there was not even an iota of reference to special category status to Andhra Pradesh' in the President's address.
He pointed out that the assurance to grant special category status to the divided Andhra Pradesh was given by then prime minister Manmohan Singh.
"What will be the recourse when decision of Union cabinet is not implemented? I am raising a question of law," he said and asked 'what is the sanctity of a Union cabinet decision?'
Reddy demanded that the government should introduce an amendment to set a timeline for Speaker to dispose off the cases related to anti-defection. He also asked the government to bring and implement women reservation Bill.
Joy Abraham (Kerala Congress-Mani) criticised the government for naming all the central programmes in Hindi. "For every scheme of central government if it is in Hindi, there should be an English equivalent to it."
He also sought a separate Railway Budget like the earlier practice.
Satyanarain Jatiya (Bharatiya Janata Party) complimented the government's programmes for all-round development of the people, while Rajni Patil (Congress) asked the government to inform the House how much black money has come back into the system and how much has terrorism declined post-demonetisation.
She also demanded bringing of the Women's Reservation Bill.
D Srinivas (Telangana Rashtra Samiti) spoke about a 'raw deal' to Telangana in the Budget and sought help from the Centre for the development of the new state.
The discussion remained inconclusive and will continue on Tuesday.