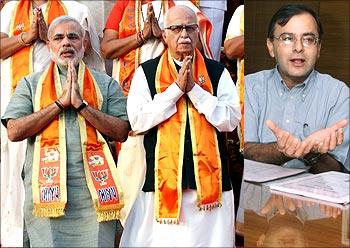 An internal report of the Bharatiya Janata Party, which is being discussed at the party's chintan baithak in Shimla, has reportedly blamed senior party leader L K Advani, Gujarat Chief Minister Narendra Modi and Leader of Opposition in the Rajya Sabha and party's chief election manager Arun Jaitley, besides other top leaders for the party's debacle in this year's general elections.
According to Times Now channel, there was a perceived lack of unity among the party leadership and the BJP squarely failed to advertise its agenda among the general public.
The report also says the projection of Modi as prime ministerial candidate by certain members of the party and the personal attack on Prime Minister Manmohan Singh (which did not go down well with the people), were key factors in contributing to the BJP's electoral loss.
According to Times Now, the other factors responsible were:
(1)   Highlighting of the Varun Gandhi issue, which pushed aside the other main issues;
(2)   The party failed to assess the public mood in Haryana and conceded a virtual walkover to the Congress;
(3)   Elections were lost in Delhi even before campaigning began;
(4)   The BJP failed to corner the Congress on 26/11;
(5)   Allowing the Congress and the media to corner the BJP on the Kandahar hijack issue.
The report was prepared after open demands by Yashwant Sinha, Jaswant Singh and Arun Shourie for accountability for the so called poll- mismanagement and the rout.