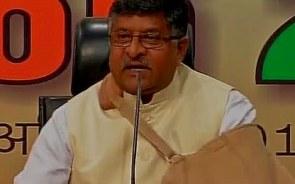 Union Minister for Communications and Information Technology Ravi Shankar Prasad on Sunday said that the Prime Minister Narendra Modi-led Government at the Centre is for the poor and underprivileged.
"Modi is a leader, recognised worldwide. It is the government for the poor and the underprivileged," he said. "I thought after a couple of months of introspection, Congress vice-president Rahul Gandhi will speak a new language," he added.
Bharatiya Janata Party spokesperson Nalin Kohli said that Rahul was out on a foreign visit at an unknown destination for personal reasons, whereas Modi went on a foreign visit to serve the country.
"Gandhi was outside India at an unknown destination for personal reasons; Modi was outside to serve the country," he told ANI.
"The approach at the rally was to re-launch Rahul once more, and his focus has been, event to event and photo opportunity politics," he added.
Meanwhile, Union Rural Development Minister Chaudhary Birender Singh accused the Congress of misleading the farmers.
"I would like Sonia ji to read our amendments, and tell us which amendments are not in favour of farmers. They are trying to mislead the farmers," he told media persons.
Sonia earlier in the day said that the voice of India's farming community can never be silenced or suppressed, and any attempt to do so, would be countered with all the power at her command.
Addressing a Kisan Rally at the Ram Lila ground on the outskirts of the walled city of old Delhi, she said, "The voice of farmers is neither suppressed, nor can it be suppressed. This energy today is what we need to fight against the injustice to farmers."
"We (Congress) may be out of power, but there will be no let up in our intensity of fighting for the farmers," she added.
Sonia said, "By coming here today in such large numbers, you have strengthened our resolve. We are here to send a strong message to the prime minister and his government: 'Enough is enough.' (Ab Bahut ho Chuka Hai)."
She said it was unacceptable for the National Democratic Alliance regime and Prime Minister Modi not to do anything to ease the misery of the farmers affected by crop failure and unseasonal weather.
"Unseasonal rain has destroyed the lives of the farmers and the Modi Sarkar has done nothing. The relief that is being announced for farmers is now next to nothing. It feels as if they are rubbing salt in your wounds," the Congress president said.
"The BJP is conspiring against the farmers. They have introduced amendments to a law that they had consented to, and is pro-farmer. The amendments are being made to benefit corporates and industrialists," she had stated further.