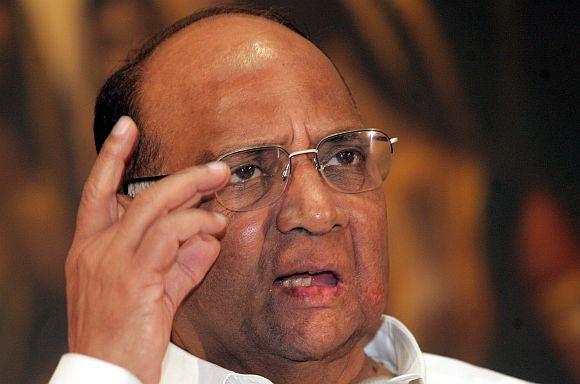 A day after former MP and Nationalist Congress Party leader Samir Bhujbal was arrested by the enforcement directorate in a money laundering case, party chief Sharad Pawar on Tuesday said he has not seen such "blatant misuse of power" in last 40 years.
"I have seen other governments besides the Congress and the NCP. I have very closely observed the Shiv Sena and the Bharatiya Janata Party government in 1995. But, in a democracy, I have not seen such a blatant misuse of power in the last 40 years," Pawar said, while addressing reporters here.
Samir, nephew of NCP leader Chhagan Bhujbal was arrested last evening after over six hours of grilling under the provision of Prevention of Money Laundering Act with the contention that he was not co-operating with investigation and thus his custodial interrogation was necessary.
Pawar however, while answering a query, said that Chhagan Bhujbal should co-operate with the investigation and come out clean of all charges.
"This is not a matter of protests. There are more important issues concerning the people of the state that need urgent attention at the moment," the veteran politician said.
The 75-year old former Union Minister said that he has worked for many years at the Centre and that decisions are taken by a Group of Ministers and not by a single person.
"Like the Centre, the state also has a group of ministers who take decisions collectively. What is being shown as (Chhagan) Bhujbal's decision, is actually the decision of the cabinet," he said.
"It is unprecedented that three Central agencies investigate one allegation. It means that they want to continue to keep investigating till they get what they want. There is just one family that is being targeted here for political gains," he added.
The ex-CM of Maharashtra while replying to a query also said that the NCP will not be intimidated by such acts and that it will continue to raise issues concerning people.
"If anybody wants to misuse power against us, we are ready for it. There is nothing to worry about. They can accuse as many people of indulging in corruption as they want to. Tomorrow they may take my name as well. Instead of getting intimidated, we will undeterringly continue to focus on issues concerning people," Pawar said.
On Monday, the ED arrested Samir Bhujbal in a money laundering case here after the agency conducted multiple searches in connection with its probe against Bhujbals and others.
Samir was arrested after over six hours of questioning under the provision of the PMLA at the agency's office in Ballard Pier in Mumbai. He is scheduled to be produced in court on Tuesday.
Sources claimed he was not cooperating with the investigators and hence his custodial interrogation was necessary.
On Monday, ED conducted searches on at least nine premises, including properties and offices, belonging to former Maharashtra PWD minister Chhagan Bhujbal, son Pankaj, nephew and ex-MP Samir and few others.
A team of 20 officers of the Mumbai zonal unit of the agency conducted the operation.
The agency's action came days after the Bombay high court on January 28 sought progress reports from the Maharashtra Anti-Corruption Bureau and the ED in four weeks on their probe against Bhujbal and his family members.
The agency has filed two FIRs against the Bhujbals and others under the provisions of the PMLA, based on earlier filed Mumbai police FIRs, to probe the Delhi-based Maharashtra Sadan construction scam and the Kalina land grabbing case.
The agency has also brought out three property attachment orders worth over Rs 280 crore in this probe case under money laundering laws.
The Bombay high court, in December 2014, had constituted a Special Investigation Team comprising the ED Director and the Director General of state Anti-Corruption Bureau to conduct the inquiry against the politician and others and submit a report to it.
The Mumbai police complaint names Pankaj and Samir and they had been booked under IPC Sections related to cheating, criminal conspiracy, criminal breach of trust and relevant provisions of Maharashtra Ownership Flats Act.