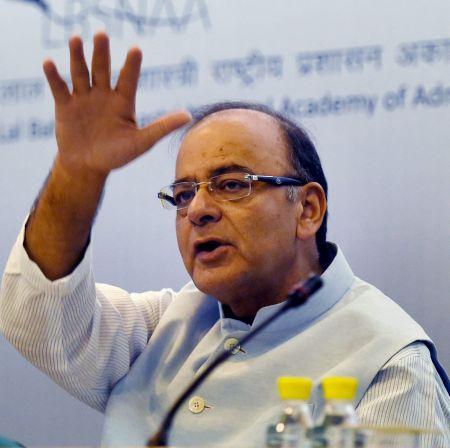 If Jaitley is finalised for the First Citizen's post, Modi will have scored two strategic goals, reports Rajeev Sharma.
Finance Minister Arun Jaitley is emerging among the frontline candidates of the Bharatiya Janata Party for the Presidential election due in July 2017, it is reliably learnt.
This may well be the biggest national political news since Narendra Modi was made the BJP's prime ministerial candidate in September 2013.

Jaitley is perhaps eminently qualified to pull off a Pranab Mukherjee, considering the fact that he is the only minister in the Union Cabinet whom Modi regularly consults on political and administrative issues.
Unarguably, Jaitley is as close to Modi as Mukherjee was to Congress President Sonia Gandhi, and the prime minister would have to accommodate his personal choice just as Sonia Gandhi had done in Mukherjee's case.
For his part, Modi seems to have realised that he can't have everything as per his wishes as it's an open secret as to how much he is dependent on Jaitley and has always been loath to the idea of replacing him with someone else as finance minister.

The Rashtriya Swayamsevak Sangh has been pressing Modi to allocate the crucial finance portfolio to someone else as the economy under Jaitley hasn't exactly fired on all cylinders.
But Modi has stood his ground and fobbed off all attempts to replace Jaitley.

Other strategic considerations seem to have changed Modi's mind and he is perhaps now more open to the idea of a Cabinet without Jaitley, not unlike the manner in which Manmohan Singh and Sonia Gandhi reconciled themselves to the idea of running UPA 2 without that reservoir of all political and parliamentary knowledge, Pranab Mukherjee.

That's why Modi is learnt to have communicated to RSS chief Mohan Bhagwat his personal opinion about the BJP's two potential Presidential candidates, the other being veteran BJP leader Murli Manohar Joshi.

Dr Joshi's name was included at the RSS' behest and he is not Modi's Presidential choice. Joshi is known to be fairly close to influential sections within the RSS and just a few days ago shared the stage with Bhagwat at a function in the national capital.
Now a word about the other strategic considerations that Modi may have if Jaitley becomes the BJP's Presidential candidate. By doing so, Modi will get a chance of having another go at kickstarting the economy with a new finance minister at the helm, thus showing the world how serious he is in his efforts at economic and political reforms in tune with the international community's aspirations.

Second, Modi will build a new rapport with the RSS leadership, particularly Bhagwat, ahead of the crucial Uttar Pradesh assembly election, a luxury he did not have during the Bihar assembly election six months ago.

Tthe Presidential race is at a very early stage. It's like a page-turner thriller where you should expect the unexpected.

Rajeev Sharma, an independent journalist and political analyst, tweets @kishkindha