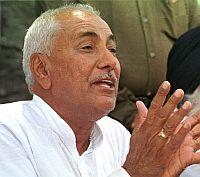 In a development that could help the ruling Congress ahead of the Haryana assembly polls, the Bharatiya Janata Party has decided to part ways with Indian National Lok Dal led by former Haryana chief minister Om Prakash Chautala.
The BJP, whose state leadership had strongly objected to the alliance with the INLD last year after the two parties went separate ways in 2004, has been unhappy with the number of seats being offered by INLD to them for the polls.
BJP leader Vijay Goel said, "We have decided to go it alone in Haryana."
Downplaying the development, INLD leader Om Prakash Chautala said, "We are together and there are no such issues from our side."
Asked whether he had received any signal from the BJP, he said, "Neither have we received any indication nor has there been any talk regarding this."
INLD state unit president Ashok Arora said, "It is their (BJP) wish. They have a problem, but we would still like to contest jointly."
If BJP had issues with seat-sharing, these could have been sorted out, he said. "We never had any problem with them. It is they who have raised issues. We still consider them our ally," Arora said.
A senior state BJP leader said INLD wanted to contest nearly 60 seats in the 90-member assembly. "We cannot always play second fiddle," he said, indicating the decision was taken at the three-day 'Chintan Baithak' of the BJP at Shimla last week.
The development is being viewed as a serious setback to Chautala's INLD, which has been jolted by a series of desertions, especially by its senior leaders including former minister Sampat Singh, in recent weeks.
Speculation was now rife that the saffron party could enter into some sort of understanding with the Haryana Janhit Congress (BL).
Asked to comment on the development, a senior Congress leader said, "People of Haryana have never accepted their alliance."
Asked if the development will help the Congress in the polls, State Congress Working President Kuldeep Sharma told PTI, "The INLD-BJP have lost their votebank. They were never a threat put together and we were not perturbed when they rejoined hands earlier. Now that they have decided to separate, it is not going to affect us much as we are comfortably placed."
Sharma claimed the BJP had no choice left, "Because it found itself paying through its nose by having an alliance with Chautala."
Prior to the April-May Lok Sabha polls, the HJC led by former MP Kuldeep Bishnoi was keen to have a tie-up with BJP, but it did not materialise because Chautala managed to have a tie-up with BJP.
This is the second time that the INLD-BJP have parted ways in the last five years. The alliance, which ruled the state for five years from 1999 onwards, had collapsed in 2004 following serious differences between Chautala and state BJP leaders. The graph of the two parties in state politics has been on the decline in the past few years. In the 2004 LS polls, INLD was completely routed while BJP could manage to win just one seat (Sonepat).
In 2005 assembly polls, Congress came back to power with an overwhelming majority bagging 67 of the 90 seats while INLD could manage to win just nine, even less than the Independents who won 10 seats.
The BJP, which had fought all 90 seats independently, managed to win just two seats. In the 2009 parliamentary polls, the INLD-BJP combine faced a total rout, with Congress retaining nine seats. One seat went to HJC candidate and former Chief minister Bhajan Lal. The coalition could only secure merely 28.59 per cent votes.
Image: File picture of Indian National Lok Dal chief Om Prakash Chautala
Photograph: Reuters