A bill seeking to explicitly ban caste discrimination has been introduced in the California Senate by a Democratic lawmaker, which, if passed, could make America's most populous state also the country's first to outlaw caste-based bias.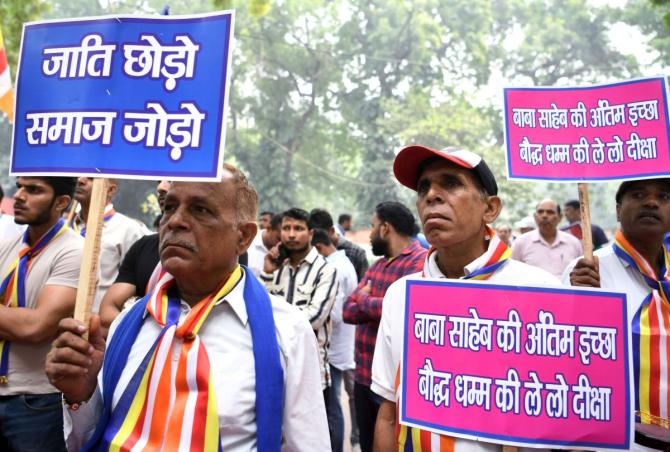 State Senator Aisha Wahab, the first Muslim and Afghan American elected to the state legislature, introduced the bill on Wednesday.
The move came exactly one month after Seattle became the first US city to outlaw caste discrimination after its local council passed a resolution moved by an Indian-American politician and economist.
The resolution, moved by Kshama Sawant, an upper-caste Hindu, was approved by the Seattle City Council by six to one vote.
"This historic legislation is about workers' rights, women's rights, queer rights, and civil rights," said Wahab after introducing the legislation.
"We want to ensure organisations and companies do not entrench caste discrimination in their practices or policies, and in order to do that we need to make it plainly clear that discrimination based on caste is against the law," she told reporters at a news conference in Sacramento, California.
California, a western US state located along the Pacific Coast with nearly 39.2 million residents, is the most populous US state and the third-largest by area.
"Caste goes beyond religion and nationality. This legislation primarily protects millions who live in silence and have never had such protection because there is little understanding of this issue. This bill is about protecting people who are vulnerable," Wahab said.
The move was applauded by its proponents, including civil rights organisation Equality Labs, the brain behind the anti-caste discrimination resolution in Seattle which has been spearheading a nationwide campaign, and the newly-formed coalition 'Californians for Caste Equity'.
Equality Labs, in a press statement, claimed that in California, caste discrimination occurs across industries, including technology, education, construction, restaurants, domestic work, and medicine.
'Caste discrimination against Dalits -- people formerly called 'untouchables' by dominant castes -- has included bullying, harassment, bias, wage theft, sexual harassment, and even trafficking. Caste-oppressed people also experience housing discrimination when their caste identity is discovered,' it said.
At a news conference in California, Thenmozhi Soundararajan, the executive director of Equality Labs and author of the book The Trauma of Caste, said this bill was a result of 15 years of hard-won organising in the state by caste-oppressed people.
"The need for this bill is urgent. We have then some of the highest rates of discrimination of any Asian American community in the state. That is why we are here to stand in our truth to organise for our freedom," she said.
Tanuja Gupta, who worked at Google for 11 years, said the bill is the first state legislation in the country's history to name and protect against caste-based discrimination.
"This bill gives California's nineteen million workers, 10 per cent of whom work in tech alone, true legal recourse when experiencing workplace discrimination based on caste," she said.
"To my former 82,000 Google co-workers here in California, this bill ensures that when a company claims it has a zero-tolerance policy for caste-based discrimination -- there will be consequences when that claim turns out to NOT be true," she said.
Cornel West, an influential American philosopher, a scholar of African American studies, and a political activist, came out in support of the move and asked Californian legislators to vote in favour of the bill.
"I am so blessed and honoured and privileged to speak to you that you have a chance to not just take a stand but to follow through on a rich, moral and spiritual issue of our time, which is the issue of caste and the ways in which cast loses sight of the precious humanity of too many of our fellow human beings and our fellow citizens.
"In the name of Martin Luther King, Jr, in the name of Ambedkar, I call on you to vote, to fight, to take a stand to ensure that this bill passes so that there is no cast discrimination in the largest state in the Union: California," West said.
Many Indian Americans fear that codifying caste in public policy will further fuel instances of Hinduphobia in the US.
Over the last three years, ten Hindu temples and five statues, including those of Mahatma Gandhi and Maratha emperor Shivaji, have been vandalised across the US as an intimidation tactic against the Hindu community.
Indian Americans are the second-largest immigrant group in the US.
According to data from the 2018 American Community Survey (ACS), which is conducted by the US Census Bureau, there are 4.2 million people of Indian origin residing in the United States.
India banned caste discrimination in 1948 and enshrined that policy in the Constitution in 1950.